---
10.24.2017

We have recently discovered that the entire tracks of one of our CD products have been ripped and shared through site called usenet.nl without our permission (there is an article about usenet.nl). It is an illegal act, and we take necessary actions against him or her.

We would like to assure that there is no downloadable audio file from Sonetto Classics other than the ones Sonetto uploaded to Youtube. If you encounter any suspicious activities or webpages, please report to info(at)sonettoclassics.com.

Thank you for your help,

Tomo Sawado
CEO, Sonetto Classics


---


10.13.2017

I went to a memorial event for Terry Harrison, a prominent UK agenct who worked with André Tchaikovsky, Ladu Lupu, and András Schiff at Wigmore last Thursday. It was not open to public, so there were not many people in the audience, but including Bernard Haitink, György Pauk, Steven Isserlis, Stephen Bishop-Kovacevich, Norma Fisher, etc.
There was also a guy who runs André Tchikovsky's webpage and we've started communicating each other.


Yuuko Shiokawa, Lupu and Schiff played, and it was quite memorable event. You can find photos I took in Norma Fisher's Facebook entries.

---

10.11.2017

Two articles related to Nyiregyházi have appeared today.


http://hungarianfreepress.com/2017/10/11/ervin-nyiregyhazi-from-hungarian-child-prodigy-to-california-drifter/

http://montrealgazette.com/sponsored/mtl-375th/from-the-archives-young-piano-star-lit-up-montreal-burned-out-early


Unfortunatelly, both articles are not accurate about Nyiregyházi's name. His name only has an accute accent over a (á). A common mistake is to write like Nyíregyházi, which is originated from an area called Nyíregyháza. The Liszt academy in Budapest also did the same mistake. I've already contacted them to fix it, but nothing has happened.


http://lfze.hu/en/notable-alumni/-/asset_publisher/fLQ9RSuRgn0e/content/
-ervin/10192


Nyiregyházi always signed "Nyiregyházi" except for one occasion, where no accute accent were visible.

---

9.8.2017

Vanessa Moss, a daughter of our friend Parker Moss, who is a known pianophilie living in London, died yesterday due to her illness. She was Angelo Villani's god daughter, and we share a good memory traveling to Bologna with her and her family last year. She was an angel. We are all saddened by the news.


---

8.14.2017

We are happy to announce that our next album project features Norma Fisher's BBC recordings made in the 70s and 80s.

Norma was a leading pianist in the UK, had made a number of appearance in BBC Proms. She started focusing on teaching from the 1990s, being one of the most prominent teachers in the world. She teaches at the Royal College of Music and London Master Classes. Her protégés includes Pavel Kolesnikov, Anna Fedorova, and Eduard Kunz.

The program will include:

1) Brahms: Variations on an Original Theme Op 21 No 1
2) Brahms: Variations on a Hungarian Song, Op.21 No 2
3) Scriabin: Etude Op. 42 No. 1
4) Scriabin: Etude Op. 42 No. 4
5) Scriabin: Etude Op. 42 No. 5
6) Scriabin: Etude Op. 42 No. 8
7) Scriabin: Piano Sonata No 1

Producer: Tomo Sawado
Sleevenote: Bryce Morrison
Photo: Richard Kalina
Remastering:
Andrew J. Holdsworth &
Tomo Sawado

We aim to release it in this fall.
(The detail may be changed--we still hope to find an intact tape of her Scriabin's 5th Sonata--please see the following video).




---


4.8.2017

"Nyiregyházi Live, Vol. 1: The Century Club of California, 1972" has been released.

The album is now available from amazon.co.uk, amazon.de, amazon.fr, amazon.it, amazon.es, and amazon.co.jp. Please use them accordingly. Customers outside of EU/Japan/China can obtain it from
amazon.co.uk
. Customers in Mainland China can obtain it through taobao.com.

Please also see the distributor list here.



---

3.1.2017

We have CDs in our hands, and have already shipped to relevant people and organisation. The album will be available in amazon from April 8, 2017, which marks the 30th anniversary of his death.

We will provide the links for purchasing as soon as they are available. Meanwhile, please see the promo video.






---

1.5.2017

We have started the production of the album featuring EN's 1972 recital at the Century Club of California. The album will be released on April 8th, 2017 (30th anniversary of his death).

I just found that EN's mother's name is on the database of Holocaust victims. If you're curious about the database, please read my entry on 2/2/2014.

http://yvng.yadvashem.org/index.html?language=en&s_lastName=Nyiregyhazi&s_firstName=&s_place=


---


11.29.2016

I've just uploaded the documentary of 2016 London Master Classes. Tutors include Norma Fisher, Gyorgy Pauk, Nelly Miricioiu, Benjamin Zander, and Ralph Kirshbaum.

https://www.youtube.com/watch?v=HJL5Xh9HWGY


---


11.29.2016

We are now entering into the phase of last 24 hours of our campaign. Please don't miss the last chance to get the rewards! Thanks a lot.


---



11.20.2016

We just made it! Thanks a lot.


---


11.20.2016

Only 9 more days!

British music journalist Jessica Duchen has just introduced our campaign in her blog article entitled "Help the resuscitation of a lost genous".

She also discussed about pianists appearing in the first half of the 20th century, and Nyiregyházi is mentioned in the article "The Golden Age of Pianists."

This campaign has been launched after solving all the obstacles preventing the release of Nyiregyházi materials in the last few decades, and I myself was in the middle of the complexity since 2004. The success of this campaign would mean A LOT not only to me personally, but also to other labels, which try to share their treasures with the world in a proper sound format.

I have Kevin Bazzana, the author of Nyiregyházi's biography, and engineer Robin who has worked with eminent artists including Paul Mccartney, Sting, and the Royal Philharmonic, in my team. This release is officially endorsed by the Nyiregyházi's estate and the sound source is from Nyiregyházi's personal archive. The project is waiting to run. We all appreciate your support.

Please note that funding on Kickstarter is all-or-nothing. You'll only be charged if the project is successfully funded.


---

11.19.2016

We have only 10 days remain in our crowdfunding campaign, and need
Ł1500 to initiate the project.

All backers will be rewarded accordingly, and can read the following updates that contain unpublished scores and photos.

1. About the sound source: Nov 2
2. Liszt B-minor sonata by Ervin Nyiregyházi: Nov 7
3. Liszt B-minor sonata by Ervin Nyiregyházi (2): Nov 10
4. We're halfway toward completing the project...: Nov 14
5. Nyiregyházi and Bobby Fischer: Nov 15

The next update is forthcoming....

Thanks!


https://www.kickstarter.com/projects/424002215/lost-genius-nyiregyhazi-live-at-century-club-of-ca
---


11.10.2016

We are on 11th day of the kickstarter campaign, which has over Ł1500 pledged so far. Thanks for your kind support, and please encourage your friends to join the project. We still need Ł2000 pounds to start the production.

Please note that if we don't reach the goal, backers won't be charged and the project will also be canceled. This means that our Nyiregyházi archive will be buried again.
So please help us to make it happen.


We have very good materials, and this project has been authorised by The International Ervin Nyiregyházi Foundation. Kevin Bazzana has been involved in this project. This is a great chance to revive Nyiregyházi's art again, and we should do it in 2017, which coincides with the 30th anniversary of his death.


For some buckers we offer new copies of "The Messengers of Piece. vol 1" . The LP box is very rare, and it is impossible to find a mint copy in the market. Our copies are drawn from the Nyiregyházi archive we recently obtained from Japan. We also offer unpublished photos, music, a booklet, etc. Please check the rewards and FAQ sections for more details. The campaign will be ended within this month.

https://www.kickstarter.com/projects/424002215/lost-genius-nyiregyhazi-live-at-century-club-of-ca
---

10.31.2016

We've started a kickstarter campaign for releasing the CD album featuring Nyiregyházi's Century Club of California in 1973. Please share the link with your friends and piano community. Thanks a lot.

https://www.kickstarter.com/projects/424002215/lost-genius--live-at-century-club-of-ca



---

10.27.2016

We are now presenting a "newly-discovered" recording by Ervin Nyiregyházi. This was extracted from the 1929 film "Fashions in Love", where Nyiregyházi was said to be on the soundtrack. I thank to Kevin Bazzana for notifying about the source.

This would also be the earliest acoustic recording of a complete piece recorded by Nyiregyházi, whose legendary pianism at his peak was not properly recorded.






---


8.15.2016

I have been checking the conents of the archive, which includes 123 reel-to-reel sound tapes. I will bring a couple of tapes to Abbey Road Studios next week to check the sound and condition, and if they are fine, they will transfer to digital.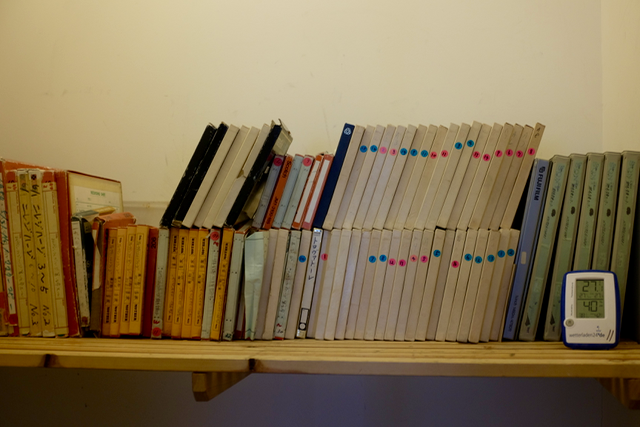 ---

8.6.2016

I would like to announce that Sonetto Classics has now obtained the Nyiregyházi Archive that used to belong to the Sozo Gakuen University (previously called The Takasaki Art Center College), Takasaki, Japan.

The archive was originally donated by Nyiregyházi's family to The Takasaki Art Center from 1996, and was composed of reel-to-reel tapes, films, letters, memos, photos, music scores, etc. The school had been in a financial difficulty for a number of years, and closed in 2013 due to a series of administrative and financial misconducts. The school president, Mr Tetuji Koike (Horikoshi), was arrested and got sentenced of two years in prison for the charge of fraud. The school properties including the archive were attached by the creditors but there was also a dispute about the ownership regarding who owned what. I contacted and negotiated with the lawyers/creditors from 2013, and the archive was finally released from the dispute several weeks ago.

Unfortunately, the archive had not been properly handled in the last 20 years. The great majority of the contents had never been disclosed to researchers including Kevin Bazzana and myself, and was not properly stored particularly in the last 3 years. We will conduct a damage assessment first, make digital transfer, and release usable materials from Sonetto Classics. We have brought the news to Mattheus Smits of The International Ervin Nyiregyházi Foundation, and expect to have his endorsement over the entire project.

We already have moved the entire archive to the UK, and have confirmed the presence of the following masters or early generation reel-to-reel tapes.

1) Solo concert at the century club, CA, 12/17/1972
2) Solo concert at the old first church, CA, 5/6/1973
3) Solo concert at Forest Hill Club House, CA, 5/24/1973
4) Solo concert at Ronald F. Antonioli's house, CA, 7/29/1973
5) Solo concert at Ronald F. Antonioli's house, CA, 4/30/1978
6) Masterworks session (dozens of tapes)
7) Solo Recitals, 5/31/1980 and 6/1/1980, Takasaki, Japan
8) Solo Recitals, Takasaki (1/10/82) and Tokyo (1/21/82), Japan
9) Film soundtrack that includes incident performance at a local church in Tokyo (10-20 reels), etc.

You can see an image of three of a few dozens of tapes here.

Would you like to be our supporter? Making a digital transfer costs 180 pounds/reel for us and may be more dependent on the condition of each item. We welcome any substantial contributions to make the restoration/digital transfer projects forward. We will announce a donation program soon, but please mail us (info@sonettoclassics.com) for any interest.


---
7.27.2016

It's been a year since Sonetto Classics was established in London, and we have released a critically-aclaimed piano album "Angelo Villani plays Dante's Inferno" in 2015. Now I am happy to announce that I've just acquired Takasaki's Nyiregyházi archive that had been kept away from the public last 20 years. The archive was from Nyiregyházi estate, and contains early copies or masters for all of EN's live performance after 1972, and also includes unpublished films, letters, etc.

The archive has already arrived at the UK, and I will start conducting damage assessment (the archive was stored in a horrible condition at least in the last 3-4 years). Then I will work on one of material as soon as possible as a Sonetto project.

Tomo Sawado
CEO/Music Producer, Sonetto Classics


---

7.20.2016

http://slippedisc.com/2016/07/sudden-death-of-new-york-conductor-pianist-aged-43/

I am surprised at this news. Lloyd Arriola contacted me over a year ago, wanting to make CD albums featuring Ervin Nyiregyházi's compositions with my company Sonetto Classics. I wrote back saying that I couldn't promise anything at that point as my hands were pre-occupied by other projects, but suggested to keep the option open as well as to seek the possibility to start his own label (he was positive about the idea). He was 43, and was too young to leave. Rest in peace.

---

6.23.2016

Sorry not to update this page frequently. I've been sick after coming back from Angelo Villani's Japan tour, which was a great success. I've made a mini-documentary about Villani's return to Tower Records (he used to work at Tower Records London). He did a live performance combined with interviewing. Please enjoy.




---

5.16.2016

Angelo Villani's Japan tour is getting close. I've made two promo videos about the recital at Musicasa (5.25.2016) with Japanese subtitles. Please share these videos with your Japanese friends.

https://youtu.be/jSfxnAaDdRQ
https://youtu.be/5qoxCjLmTxA

The second one is composed of unpublished footage from the recording session of "Angelo Villani plays Dante's Inferno". It's very rare that Angelo played the piano without wearing the glove, and indeed hadn't done that for a number of years.
---
---


4.23.2016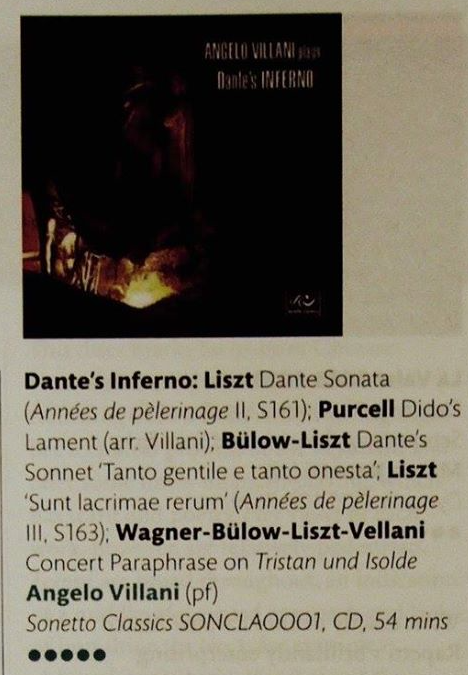 "Angelo Villani Plays Dante's Inferno" received a 5 star review rating in The International Piano (Bryce Morrison) in the May-June Issue.



"...he lifts Liszt's already searing rhetoric to another level, bearing down with a ferocious intensity.....Finely recorded, this is glorious thrown-back playing with a vengeance"








---


4.20.2016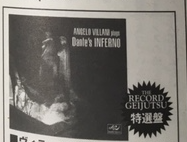 Angelo Villani plays Dante's Inferno

has been selected as a "Tokusen-ban = specially recommended" album in

The Record Geijutsu

magazine.

This magazine is the most prestigious record magazine for classical music in Japan, and the circulation number is 100,000 a month.

The "Tokusen-ban" status is given to a disc only when two reviewers recommend the disc. In my recollection, even Carlos Kleiber's famous DG recording of Brahms 4th symphony didn't get the "Tokusen-ban" status or wasn't fully recommended when it came in 1981.


---


3.15.2016

"Angelo Villani Plays Dante's Inferno" received a 5 star review rating in The Independent's RADAR section last week (March 12th, 2016):

"It's in the quieter passages that Villani works his magic most effectively, allowing the subtler shades of his innately Romantic sensibility to glimmer through the darkness" (Andy Gill)


---

2.19.2016

I made a new mini-documentary about Angelo Villani on his BBC appearance. HD version available.





---

2.15.2016

Angelo Villani will be on BBC3 in Tune this Wednesday at 17:30. Please check it.

(Update) Now it's changed to 17: 50.


---

2.9.2016

The CD launch concert was a great success. The audience enjoyed the recital a lot. Please watch this video:



Angelo Villani Plays Liszt Funérailles


Filmed and recorded at the Vernon Ellis Foundation, Feb 4th 2016
Live recording (

Angelo Villani plays Dante's inferno

CD launch concert)



http://www.amazon.co.uk/Angelo-Villani-Plays-Dantes-Inferno/dp/B019BBO0VS


---

2.3.2016

Please do not miss the chance to listen to Angelo Villani (rare). He will appear at the Vernon Ellis foundation, London, at 7PM tomorrow. Please find more details in this link.

Also, Angelo's recital in Tokyo has been anounced a few days ago. The official flyer can be found here: 1 2

I would also like to announce that Sonetto Classics has been patnered with the Japan Publications Trading Co. LTD (JPT) for the CD distribution in Japan. "Angelo Villani plays Dante's Inferno" will be available from April in CD shopes in Japan.


---

1.31.2016

Jessica's project has been fully funded now. Thanks for your help.

I , too, will start a fund-raising campaign for our new project on Nyiregyházi's CD album next month. Kevin will be a part of the project team. I am now currently making campaign videos, and will be able to start the campaign by the end of Feb.


---

1.21.2016

Here is the link to Jessica Duchen's post about Angelo Villani's album and his launch concert. It's a great one.

The concert will be on Feb 4th at the Vernon Ellis Foundation in London, and please do not miss this chance to hear him live as this doesn't happen so frequently here! His next commission will be in Tokyo.

For more details about the launch concert, please visit this link.

http://www.amazon.co.uk/Angelo-Villani-Plays-Dantes-Inferno/dp/B019BBO0VS


---

1.20.2016

Our friend Jessica Duchen has launched a fundraising campaign for her new book project about Schumann's violin concerto. It is very strange and fascinating story that any music lovers would want to read. Please support her activity. She wrote a sleevenote for

Angelo Villani plays Dante's Inferno

.

https://unbound.co.uk/books/ghost-variations

http://www.amazon.co.uk/Angelo-Villani-Plays-Dantes-Inferno/dp/B019BBO0VS


---

1.18.2016

Angelo Villani will play at Vernon Ellis Foundation, London, on Feb 4th, 2016 (19:00) for a CD lounch concert. Please see the announcement by Villani.

--------
To celebrate the launch of my debut CD, released and marketed by Sonetto Classics, I would like to invite everyone to my launch concert/party on February the 4th, 2016 at Vernon Ellis Foundation, 49 QUEEN'S GATE TERRACE, LONDON, SW7 5PN.

Tickets are Ł20 (inc. Wine and Canapes). Tickets are available by contacting Veronica Davies directly at vernon@vef.org.uk

I shall be playing selections from my album as well as having a good opportunity to chat with all of you over a drink or two!

Further details on the CD are available at http://sonettoclassics.com/

I very much look forward to seeing you there!

Angelo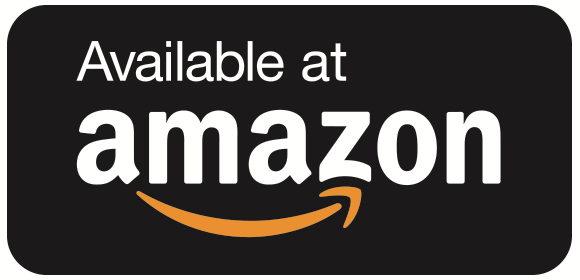 ---

12.23.2015

Angelo Villani Plays Dante's Inferno has been

released from Sonetto Classics today (worldwide distribution) The album can be obtained from Amazon. The sleeve note (Jessica Duchen) is written in English, Italian and Japanese. The program includes Liszt "Dante Sonata", Purcell-Villani "Dido's lament", von Bulow "Dante Sonnet", Liszt "Sunt Lacrimae", and Wagner-Liszt-Villani "Tristan Fantasy".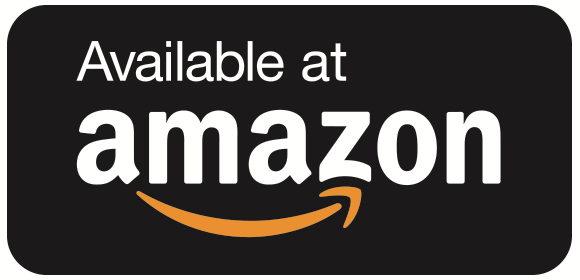 http://www.amazon.co.uk/Angelo-Villani-Plays-Dantes-Inferno/dp/B019BBO0VS
---

11.03.2015

We have uploaded the front cover of our first album

Angelo Villani Plays Dante's Inferno

in Sonetto Classics page. The album will be released in December-January.


---

10.30.2015

Would anyone know pianophilies who recorded BBC program aired in 1970's?

My company Sonetto Classics is eager to find the Scriabin 5th Sonata recording by pianist Norma Fisher, and the program was broadcasted in Feb 14th, 1972.

Would be great if you could forward the link of this short video to the person who may have. It is highly unlikely that BBC keeps the master (we are checking it now).

info(at)sonettoclassics.com

Thanks!



---

9.19.2015

Three concert programs have been added to the Archive page. I thank to Mr. Ronald Zarafa for the contribution.

Duo concert (with Guido Ciccolini) 4/16/1925, N.Y., #cover, #1, #2, #3, #4, #5, #6



Solo Concert, 11/13/1936, L.A.,

#1, #2, #3, #4

Solo Concert (jointed with Yucatan Quintette) 3/15/1930, L.A., #1, #2, #3


---
9.17.2015

We are currently looking for the following materials/ information related to British Pianist Norma Fisher. Please let me know if you have any (ervinNy(at)fugue.us). This is a part of collaboration project between Sonetto Classics and Norma Fisher.

1) Live recordings broadcasted by BBC TV and Radio.

2) Detailed information (venue, date of performance, etc) about BBC programs where Norma Fisher's performance was featured. We are particularly looking for the record of her Scriabin recital in early 70's (please see http://genome.ch.bbc.co.uk/d47f516b5f2d4341949ce937ce31634e).



---

9.06.2015

I've added a music manuscript of "The Terror of Playing Beethoven's "Appassionata" in Concert" (1)(2), composed by EN on July 18, 1986 to the Archive section.

---

8.25. 2015

I've added the document for Declaration of Intention (1935) for EN to the archive section.


---
8.14.2015

We've finished the recording sessions for Angelo Villani's Dante Album successfuly. I've uploaded producer notes, photos and a video of these sessions to our Facebook page.


---

8.08.2015

Our new company, Sonetto Classics Limited, has been officially started. Please visit our official website and Facebook page (and click "like" for us!) to find out our projects. There is one EN-related project planned.


---
7.13.2015

Angelo Villani's kickstarter campain has achieved and surpassed the target now. Thanks for your help. The next step will be the recording session at the Menuhin Hall on August 11th and 12th.


---

7.8. 2015

Only a week to expire Angelo Villani's kickstarter campain for his debut CD album, which I'll be producing. He still needs to collect 2000 pounds, and if he doesn't reach his goal in a week, all the money will have to be returned to donators. Please support the project so that the album can go to the production stage.

Thanks


---

7.5.2015

Kevin Bazzana is currently making a catalogue of hundreds of compositions by EN. He occasionally scans and sends me selected compositions, which I will upload to fugue.us.

Here is the music (p1 and p2) just arrived.

[Untitled]. Moderately Slow. E-flat major—A minor. C. 2 pp. [Undated]. Mm. 1-5 are an exact quotation of the opening of the sprightly Fugue in E-flat Major from Book 1 of J. S. Bach's Well-Tempered Clavier. The quotation breaks off suddenly with a diminished-seventh chord on the downbeat of m. 6, where the third voice enters in the original. What follows is new music, dour in nature, apparently influenced by late Liszt, mostly comprising chains of block chords, single-line "recitative," and LH tremolos. Nyiregyházi gives no hints as to the significance, programmatic or otherwise, of his quotation from Bach, with whose music he was never closely associated.


---

6.1.2015

Angelo Villani's kickstarter campain for his debut CD album has started. His goal is to gather 6000 GBP. Please take this opportunity to be involved in this fascinating project. I will be the producer.

Each supporter will receive an individualised 'reward' and there are many to choose from (from signed CD's to facsimiles of Villani's original transcriptions and private soiree recitals!).


---

3.19.2015


Here is a youtube link to EN's compositions (listed by M. Sayers).


---

3.6.2015

From Chiyan Wong's Recital at ROSL, London (March 5th, 2015).




---

3.5.2015

Kevin Bazzana sent me a photo of EN with Gloria Swanson, which he obtained the copy from one of his friends. Quite interesting. Here is the information provided by him.

"On the back of the photo is a stamp, presumably from an L.A. newspaper—RECEIVED EXAMINER REFERENCE LIBRARY FEB 10 1937—and this caption:

PERSONAL PREVIEW: Ervin Nyiregyházi, dynamic keyboard artist, subdues his famous crashing chords in order not to disturb that pensive look on the face of listening Gloria Swanson. A popular favorite with the Hollywood Motion picture colony, the world famous pianist appears at Trinity Auditorium, Wednesday, January 27, with Los Angeles Federal Music Project symphony orchestra, in a concert to be widely attended by stage and screen celebrities.
PLEASE CREDIT L.A. FEDERAL MUSIC PROJECT—Grossi photo"


---


2.25.2015

I've generated a short promo video for Chiyan Wong's recital, which will be held on March 5th, 2015, at Royal Overseas League, London. If you are a Londoner, please join the event. He is very good.

https://eventbrite.co.uk/event/15408230432/



---
2.15.2015

Angelo Villani's first debut album is now in production. We've just visited the Menuhin school in Surry for checking their Steinway and Fazioli pianos. The recording session is scheduled in August, and we hope to see the album in November, 2015 on the market.

An old photo of young Villani with Sir George Solti has been added to the Villani page.

Rio Ferdinand, former star DF of Manchester United, has joined the campain for our friend Vanessa (https://twitter.com/rioferdy5/status/566924884052549632). Thanks, Rio. I liked you a lot when you played with Shinji Kagawa, and I really admire you now.

Please join him.

https://www.justgiving.com/vanessasjourney/


---

2.8.2015

A good friend of mine, Parker Moss, who is one of prominents pianophillies in London, is seeking for a help for his daughter who has been suffered by neuroblastoma. Parker has been helping artists here, and Angelo Villani and Chiyan Wong are among them. I would be highly appreciated if you can make a contribution so that his daughter can receive a immunotherapy in the US.

https://www.justgiving.com/vanessasjourney/


---

1.28.2014

An advert for EN's recital on 10.23.1921 has been added to the archive section. This was given by Angelo Villani.

The flyer for Chiyan Wong's recital (March 5th, London) is available. Please feel free to circulate & share this.

Marston has released "Jorge Bolet, Vol 2", in which a good friend of mine Michael Glover has been involved. I have not obtained it, but I heared from several people that it is a fantastic album that every pianophilies should own. Please check the review:


---

1.20.2015

Here is the link to purchase the ticket for Chiyan Wong's London recital on March 5th, 2015 (at Royal Overseas League). The recital will start from 19:30. Please secure your seats sooner as the venue is rather small.

https://eventbrite.co.uk/event/15408230432/

The official flyer will be forthcoming....

Any enquries can be made to:

Jeremy Mcgahan
jmcgahan( at )fsatnav.com

---

1.14. 2015

Angelo Villani and I together produce a recital in London featuring a highly talented pianist Chiyan Wong. Chiyan is endorsed by Stephen Hough, did his debut concert at the Wigmore hall in 2012, and has regurarly appeared mainly in Europe with huge success.

The recital will be held at the Royal Overseas League on March 5th, 2015, and the following program will be included;

SCHUMANN - Arabeske, Op. 18
BEETHOVEN - Sonata No. 32 in C minor, Op. 111

Interval

FRANCK - Prélude, Choral et Fugue, Op. 21
LISZT (completed by Chiyan Wong) - Fantasy on Themes from The Marriage of Figaro and Don Giovanni

The ticket will be on sale very soon, and I will make the announcement in a few weeks. I guarantee that the recital will be far more than worth attending, and please keep the date open!


---

12.1.2014

Sad news from Japan. Bunta Sugawara, a Japanese film star, passed away at 81. The cause of death was cancer.

Sugawara played a critical role in EN's second appearance in Japan. He not only vocally supported EN, but also helped establishing the connection between the Takasaki music school and the Yomiuri Shimbun, writers, government officials, polititans, etc. Without him, EN would not be able to come to Japan in 1982.

Here, Quentin Tarantino talks about "Fight without Jingi (Battle without honor and humanity)" in which Sugawara starred.

---

11.18.2014

Angelo Villani is urgently looking for a temporal space to place his own grand piano. He also needs to practice on the piano. If you live in London and can help him, please contact me or Angelo. He will be happy to acknowledge your name in the CD album he will be recording next year.

----
Dear All,

I am currently seeking a temporary 'home' (12-18 months) for 7 foot Bechstein Grand piano c.1903 in North - Central London areas. This beautiful antique instrument needs to remain in a damp free environment (e.g. Church) as an extended loan. The piano does not require any other maintenance, but I would like to have access to practice on the piano at least twice per week for several hours. The piano needs to be relocated by the end of January, 2015.

I will be recording my first CD album in the summer of 2015, and anyone who offers their kind assistance for storage of this piano with providing me the opportunity of practicing will be duly acknowledged and thanked in the sleeve notes of the album alongside sponsors etc.

Thank you.

Sincerely Yours,

Angelo Villani, concert pianist
http://www.fugue.us/Villani.html
angelvillan@gmail.com


---


11.17.2014

I have gotten a response from Takasaki. I can't talk much, but I am now trying to rescue some of EN materials. I may have to do the funderaising for it, but in this case I will make an annoucement through this site.

I've "upgraded" Villani's page. He's been off the stage for over a year, but now has decided to play again. He will be involved in a few music projects next year, and we will probably do the fundraising to run the projects. Would you be interested in being a sponsor? More details will be coming...


---

10.17.2014

I've just sent a letter asking about the EN Takasaki archive to the relevant agent in Japan. I will keep updating about this.

Kevin Bazzana and I have been working together on an exciting EN-related project for several weeks. I may suddenly e-mail one of you guys to ask something related to the project, and if it happens to you, we would be appriciated if you give us your kind help......


---

10.11.2014

London-based pianist Chiyan Wong will perform EN's "Andante ethereal" together with Beethoven, Grieg, Liszt and Brahms in Germany and Hungary in November. I've listened to him a few times in London, and found he is an exceptionally talented and thoughtful young musician gifted with magnificent skills. Highly recommended.


-Date & Venue-
November 15th, 17:00: Alten Rathaus, Stadtoldendorf, Germany
November 16th, 17:00: Wandelhalle ,Bad Oeynhausen, Germany
November 22th, 11:00: Liszt Museum, Budapest, Hungary

-Program-

Brahms: Capriccio, Op. 116, No. 1
Brahms: Intermezzo, Op. 116, No. 4
Grieg: Someraften, Op. 71, No. 2
Liszt: Les cloches de Genčve, S. 160/9
Liszt: Mazurka brillante, S. 221

(Intermission)

Nyiregyházi: Andante Ethereal
Beethoven: Piano Sonata No. 32 in C minor, Op. 111


---

10.8.2014

I have uploaded EN's very last recordings made in 1984 (fall). They were recorded by his friend Ricardo Hernandez at his house. I wanted to share these recordings years ago, but it took me for a while to decide, and also to figure out if it is legally OK for me to do so.

Liszt: Aux cyprčs de la Villa d'Este No 2

Liszt: Song of the Shepherds at the Manger

For more details, KB described these recordings as follows in his

Lost Genius

(p327);

"They are deeply meditative recordings--musings- in which a rich, orchestral tone (if not much technique) is still evident --------- it was perhaps fitting that his career should close, at age eighty-one, with those ethereal A-major chords at the end of the sheperds' song, played on an out-of-tune piano for an audience of one".


---


10.6.2014

I've noticed materials like Mr. Yoshimasa Hatano's photos are used in Youtube videos without the copyright owner's consent. Please be aware that anyone who wants to use Mr. Hatano's photo would need to get the permission from the photographer, or need to pay license fees to him. If this continues to happen, I would have to stop providing these materials from my site.

---

9.14.2014

1) The following track has been updated. This has been stuck to mind since I opened the site 7 years ago.

Liszt: Faust symphony, the 2nd movement "Gretchen"
Ronald Antonioli's home, 4/30/1978

The circulated version of EN's "Faust symphony" recording in 1978 plays a half-note higher (A major) than the original key (A-flat major). The original recording that I share with Kevin Bazzana was already in A major.

The question is whether the transposition is originated from EN's intension, or due to the problem in the recording device. I have no evidence to support each theory. As I don't really see why he would have to make the entire piece a half-note higher, and personally feel that at least "Getchen" would sound a bit better in the original key, I've decided to replace to the one with the "corrected" pitch. You can still listen to the A major version on Youtube if desired.

If anyone who attended the actual concert and remember which pitch EN played, please contact me.


2) Melo classic has recently uploaded a

1933 film, in which Clemens Krauss conducts the Vienna State Opera Orchestra. The orchestra used contenious vibrato throughout the footage. See my vibrato article.

---
9.10.2014

Two famous tracks, played by Nyiregyházi, have been added to this section:

1. Liszt Deux Legendes, No.1. St Francois D'Assise Predicant Aux Oiseaux ("Birds")
Old First Church, 5/6/1973

2. Liszt: Deux Legendes No.2, "St. Francois De Paule Marchant Sur les flots" ("Waves")
Old First Church, 5/6/1973


These tracks were transferred from a Desmar LP "Nyiregyházi Plays Liszt", and as discussed before, I much prefer these LP versions to M&A CD tracks (see my entry on 4/22/2014).

I already added "Waves" to this site before, but I've noticed that the pitch of the previous version was just slightly (about 2Hz) lower than A=440Hz. Now I 've uploaded the ones with the proper pitch.

---


9.8.2014

I've added to musicmanuscripts of EN's composition to the Archive section.
Castle, No. 2 (1984)
The Bottomless Pit (No. 3) (1985)


---

8.5.2014

Recently I have made a page dedicated to Liszt B minor sonata. The page has reviews and ratings for 108 recordings of the sonata, and I evaluated them through blind listening. Currently I am the only reviewer for the page, but one more guy, who himself is an outstanding pianist, is expected to contribute to the page as a second reviewer.

I am afraid that no English edition is available at this point except for the rating score part, but you may be able to guess the content through Google Translate (Google Chrome), which I must say does not do a good job at all in translating Japanese to English.


---

7.2.2014

I thought I have introduced the following one, but apparently I only did for the Japanese edition, although it is briefly mentioned in

Lost Genius

. Here is a written script of interview with Gyorgy Sandor, who is an outstanding pianist.



Sandor: Another interesting Hungarian pianist,




who also became a legend and a conversation piece, was Nyiregyhazi. You




know him?





FR: Yes, I know his playing very well. When I was younger I was bowled




over by his records, but not so much anymore.





Sandor: He was a very strange character, a child




prodigy…freakish…wonderfully precocious. I heard him in Budapest in the




20's or 30's. He played the Liszt Totentanz, not an easy little piece. I




vividly remember one of the variations were there are very fast




fortissimo repeated notes…we all struggle with different fingerings, but




he played it with one finger…like an asphalt digger…a pile driver. With




incredible power and energy…it was spectacular.



---
---
5/30/2014

The link to the 1982 program wasn't proper. It's been fixed now.


---

5/26/2014

I have uploaded an image of an artilce of the

Focus

magazine (issued on 1/29/82). Only a part of the two page-article is uploaded to avoid the copyright violation.

The

Focus

is tabolid photo magazine from the Shincho-sha. The article says in the party there were many celebrities like actor Bunta Sugawara, conductor Naozumi Yamamoto and composer Ikuma Dan. Composer Toru Takemitsu was also attending the ceremony, and left the remark to Kakuyu Sekikawa, who organized the party, "

Atama Okashiinjyanaika (He must be insane)

". The party was held in 1/19/1982 at the Hotel New Otani, and was promoted by the major newsmedia including the Yomiuri Shimbun newspaper.

EN played Liszt's "Waves" at the party, and the unofficial recording remains. I must say that his technique was terribly declined by then, and he wasn't able to recreate the magic he generated 10 years earlier at the Old First Church. EN himself admitted in a letter to Daitetsu Koike that he didn't play very well at the party and doesn't want to publish the recording. Regardless, EN was very happy about the party overall.


---


5/26/2014

I've uploaded a full version of the concert program for EN's 1982 recitals in Japan as well....It was also provided by Mr. Jun Kinoshita (www.jk-arts.net). Similar to the 1980 program, EN himself hand-wrote what he was going to play at the end of the program.
---

5/25/2014

I've uploaded a full version of the concert programfor EN's 1980 Takasaki recitals. The original booklet, which is a rather simple one, was given by Mr. Jun Kinoshita (www.jk-arts.net) several years ago. In the program, EN was inappropriately introduced as "Sir Ervin Nyiregyházi". EN himself also hand-wrote what he was going to play at the end of the program.
---

5/23/2014

I uploaded images of official flyers of "World premiere" recital for EN's own compositions in Japan (1982) (Japanese)(English) to the archive section. They were made by people in Takasaki art school. At the bottom of the flayer, there is also a coupon to book a new LP album, which was planned but has not been produced till now.


---

5/17/2014

When EN came to Japan second time (1982), people in Takasaki music school planned to make EN play with Seiji Oazawa & Gumma Symphony Orchestra. I would say the "plan" was rather primitive and reckless considering that Ozawa, who was the music directer of Boston Symphony, would not conduct the unknown local orchestra then, and Ozawa's "clean" approach to score would not work with EN. But I guess they always liked big figures like Ozawa (as they hired the Akira Kurosawa production for their unfinished "documentary film") to attract attention from general public, and indeed they may have contacted Ozawa's agency in Boston. But EN himself dismissed the idea when he heard the plan, stating that he would not like to perform with any orchestra. A wise decision. There would be no chemsitry between Ozawa and EN.

The person who informed me this story was at the leading position of 1980 and 1982 EN-Japan projects (and Takasaki LP as well), and so I believed the story. But I could not find the second source to back it up, and thus it is not mentioned in "Lost Genius".

I've ocasionally mentioned this kind of small anecdote in the Japanese edition of fugue.us, but I just realize that haven't done that much in English page.

---
5/16/2014
I've uploaded pdf files of articles appeared in the

Piano

(by Anton Kuerti, Sep/Oct 2007) , and the

International Piano

(Jeremy Nicholas, May/June 2008) magazines to the archive section. High-resolution image files appeared in these articles were provided by me, though The

Piano

magazine failed to acknowledge me in the article. The

International Piano

did.

I did not upload the whole articles to avoid violating their copyright, and thus if you would like to read them through, please purchase them from the relevant publishers.
---

5/9/2014

Angelo Villani's page has been updated. I've added two Facebook buttons, which are linked to the Villani's official Facebook page. I would be appriciated if you can click "Like" to support the excellent pianist ....

I've also embeded youtube videos of Villani's London debut concert as well. A legendary recording engenieer Tony Faulkner did the recording.


---
4/24/2014

I've asked this before, and will keep asking----if there is anyone who can get copies of films "Lummox" (1930) and "Fashions in Love" (1929), please let me know. EN is likely to be on the soundtrack.

Also, if you have a chance, please spend your time with my vibrato article. It's not related to EN, but is relevant to the historical performance practice, which was closely analyzed with old film footage (please click images to see videos). I believe no one has taken this approach before in a systematic way. David Hurwitz gave me an extended and positive comment about the article.

---

4/22/2014
"Two Legends" recordings


If you listen to "Two Legends" tracks in the original Desmar LP record "Nyiregyházi Plays Liszt" and the ones in the M&A CD, you will find that there are considerable differences between the two. The former tracks may sound a bit muddy and dark, but certainly offers the massive scale, volume and power, while the latter sounds more "sanitized" and fragile with much thinner and brighter sonority. Above all, the mystical atmosphere that the former version offers is somehow lost in the latter. I always consider the original tracks in the Desmar LP to be far superior to the "sanitized" CD version.

These differences are due to the extensive noise reduction and sound equalization applied when the latter version was generated from the recording tape. It should also be noted that the first note of "Waves" is also chopped and thus the editing was not properly done. These problems were already present in the audio source files of the entire Old First Church Recital that M&A used for the transfer, and so it is not entirely clear who modified the recording tape.

For these reasons fugue.us has the MP3 file of "Waves" directly transferred from the LP, and will have "Birds" derived from the LP soon. After all, they are the ones EN himself liked; however, since they are compressed MP3 files, and there is no official CD version of the Desmar LP issued at this point, I suggest people to obtain the Desmar LP record.

The LP record was once widely circulated, and thus you can get it easily at a very reasonable cost through e-bay, for example. If you play the record with a decent audio set rather than using your iPod, you will understand why the record excited and inspired many people.

---

3/27/2014

I found a post by Neil Levenson on EN in Yahoo Furtwangler mailing list, which is publically accessible.

---
3/26/2014

In 1982, Glenn Gould was asked to play in EN-style by an engineer during one of his recording sessions (Brahms). He laughed loudly and said "I haven't studied his style!". The engineer said "I'll send you a number of records". GG replied "No, no, I have them. That's why I haven't studied them...".

A list generated in Gould Archive in Otawa indicates that GG indeed owned one of EN's LP, but didn't open it (KB)

I've added the mp3 of the conversation with some incidental music GG plays -------actually, the second style sounds like EN a bit------to the EN archive page. The original source of the recording is from Glenn Gould Archive in Library and Archive Canada.


---

3/25/2014

There is a web page scanning thousands of piano rolls into midi format. Several EN's Ampico recordings are included. The information has been added to the EN archive page.


---

3/24/2014

EN's name can be found in the list of notable allumini of Liszt Academy (Liszt Ferenc Zeneművészeti Egyetem). The information has been added to the EN archive page


---

3/10/2014

EN's complete absolute pitch is well documented in "The Psychology of a music prodigy" by G. Revesz. Revesz recorded that Ervin (he was 7) was able to identify 20 out of 24 notes from these three chords. How many notes did you pick up?

See the actual notes.

---

2/21/2014

I have updated the Archive section as I found many links are dead. Now many of them to the original news articles have been reactivated. I have also added a few links to EN-related sites (e.g. Kakuyu Sekikawa's site: there are some rare photos that were taken when he visited EN to invite him to Japan).

---
2/2/2014
Kevin Bazzana has informed me about his new finding regarding the fate of EN's family during WWII. Yad Vashem, the Holocuast memorial and museum in Jerusalem, had established the database composed of documented identities of more than 4 million Holocaust victims. KB found the name of Alfred Nyiregyházi, EN's brother. No information of Maria Nyiregyházi, who is believed to be killed by Holocaust, has been found.

KB said " There are no details about the mother, only that she was indeed a victim, but the records seem to indicate that Alfred died in a forced-labour camp at Kópháza, in the northwest corner of Hungary; this contradicts what Nyiregyházi was told in the 1960s by his relatives—that Alfred died fighting on the eastern front alongside the German army. (They agree on the death date, anyway: 1944.) "

Out of curiosity, I looked into the record of Karel Ancerl, a famous conductor and surviver of Auschwitz, through the database. Ancerl was sent to Auschwitz along with his sun Jan, and his wife Valy on 15th of October, 1944. A composer Pavel Haas was standing next to Karel Ancerl while Ancerl was about to be killed. Since Haas was caughing, Dr. Josef Mengele send Haas to the gas chamber instead. Karel Ancherl managed to survive but his wife and son were killed.

I wasn't able to find Valy's name in the datbase, but found the record of Jan Ancerl, who was killed on 16th of October, 1944. This must be the conductor's 1-year old son. I also found the record of a victim named Pavel Haas, who is likely to be the composer.


---

10/13/2013

Sir Roger Norrignton has claimed that there was no vibrato in the orchestral performance in the pre-war era, but visual evidence suggests otherwise. Please see my new article "To vibrate or not to vibrate, that is the question".

---

8/26/2013

Angelo Villani's recital at the Royal Over-seas League has been canceled. To get a refund, please contact the organizer .

---

8/11/2013

Angelo Villani will have a recital at the Royal Over-seas League in London (September 19th). He is to play Liszt and Chopin. Do not miss it. The ticket is avalibale from this link.

Royal Over-Seas League
Park Place
SW1A 1LP London
United Kingdom

---

7/6/2013


The following information is obtained from Facebook EN group:

You could find old ads/articles about EN as follows:
1. Go: www.mbsi.org/presto/
2. Click "search prest issue.
3. Type "Nyireghazi" or "Nyiregyházi".

Also, there are several recordings for EN compositions in youtube. Type "Nyiregyházi Stephan Ables" to find recordings. Also see his site:

Related to the latter issue, the current copyright holder of EN compisitions is the EN foundation in Netherland, and the head of the organization is Mr. Mattheus Smits. The Takasaki school does not hold any copyright over EN properties. I've spoken to him once when I started this site, and found that Mr. Smits is quite supportive and understanble about people's activites that would help promoting EN arts. As long as the activity is not related to business, like publishing composions or making commersial CDs, I would not worry about legal troubles at this point due to his generous stance. If the copyright is transfered to an other body like a commersial publisher in the future, things could be more strict.

If anyone would still like to get "recognition" from Mr. Smits to use copyright materials, please e-mail me (ervinNy (at) fugue.us) to get his contact number or directly write to the foundation. I believe Mr. Smits still does not use e-mail, and so if you need to obtain his instant responce, you would need to call him.

Kevin Bazzana's book and Mr. Yoshimasa Hatano's photos are strictly protected by copyright. Please do not use them even in youtube without their permission or lisence charge, regardless of where you live.


---

6/10/2013

The Horikoshi gakuen (=the mother body of the Sozo Gakuen University)now went to bunkruptcy on June 6th. A bunkruptcy trustee has been officially appointed, and he should be the only one to work out the debt. I will contact him.

---

6/06/2013
Angelo Villani's audio files have been uploaded to youtube by Jun Kinoshita, who has contributed to the EN section of fugue.us, and now runs a promoter agency for pianists, J-K arts.

---


5/26/2013

I've started a page about Angelo Villani, whom I regard the true inheritors of 19th-century-style romantic pianists--like EN. Recordings, articles, radio interviews are available. Please don't miss incredible Tristan und Isolde, and exceptionally sensible Liszt "Cloches", Chopin, etc.


---
5/18/2013

Some news about the Sozo Gakuen University.

It is reported that the creditor has requested a petition for bankruptcy to the Horikoshi Gakeun. The Horikoshi Gakuen run the Sozo Gakuen University, which was ordered to be closed on March 28th, 2013, by Minister of Education. The total sum of debt is reported to be 4.5 billion yens (45 million dollars).

Mr. Koike, the former president of the Sozo Gakuen University and invited EN in 1980 and 1982, was arrested for misappropriation of school finance in November 2012. He was sentenced to 2 years and 6months' penal servitude at a district court. He is currently appealing to a higher court.

Three board members of trustees of the University have been appointed for bankruptcy proceedings, but numbers of lawsuits that the organization has been involved could potentially make the process difficult.

No update for EN's archival materials.

---

5/6/2013

Angelo Villani appeared on BBC radio program on 6th. His interview starts from 1:08. Listen to his superb interpretation of Wagner's Tristan and Isolde.

http://www.bbc.co.uk/programmes/b01s5mh0

If you are around London on 8th, do not miss the recital!

---

4/1/2014

Angelo Villani's second concert in London will be held at St. James Smith Squre, London, on May 8th. For more information, please see below.

http://www.sjss.org.uk/events/angelo-villani-piano-recital

---
11.30.12

Angelo Villani's debut concert clips have been uploaded.
http://www.youtube.com/watch?v=DaLAjnwObZI&feature=channel&list=UL

http://www.youtube.com/watch?v=DaLAjnwObZI

Mr. Koike Tetsuji (aka. Horikoshi Tetsuji, Koike Daitetsu, or Horikoshi Daitetsu), who invited EN to Japan in 1980 and 1982, has been arrested for misapprecitation today. He also have had a series of financial problems in his school the Sozo gakuen University (=The Takasaki Art school). The Japanese government has annonced that the school is to be closed in March 2013. The school was also believed to have larage archival materials (music sheets, letters, etc) submitted by EN himself, as well as films and recordings. It is not clear what will happen to the "hidden" archive. I will be trying to figure out.

---
10.4.12

Angelo Villani appears from 9:30 in the following BBC program.
http://www.bbc.co.uk/iplayer/episode/p00yk1pd/The_Strand_04_10_2012/

---
10. 2.12

Here is updated information on Angelo Villani's London Debut concert . Angelo, an EN admirer, is talking about EN on the second article.

Same goes for Ervin Nyiregyházi's Liszt 2 Legends. He seems to not only underline the Hungarian elements in Liszt's music but also the metaphysical and visionary aspects to the point where a critical response becomes engulfed by an emotional one.
___________
Dear ticket holders,
We hope you are looking forward to Angelo Villani's Debut Concert at
St. James' Piccadilly this weekend. To whet your appetite for his
performance, I felt you may enjoy reading two interesting interviews
by Angelo, including today's interview in the Guardian, which describe
the extraordinary circumstances of Angelo's comeback after over 20
years absence from the stage:

http://www.guardian.co.uk/music/2012/oct/02/pianist-angelo-villani-moods-emotions

http://jessicamusic.blogspot.fr/2012/09/a-remarkable-pianist-is-due-to-make-his.html

Please do pass this information onto other friends who may be
interested - we still have a few seats left

Parker Moss
+447595919400
parkermoss@gmail.com

---
9.7.12

Angelo Villani, a friend of mine, will have London Debut Piano Recital next month in London. Angelo was once regarded highly in his home country, Australia, but had to terminate his concert career due to the trapped nerve. Now his condition has been much improved, and he has decided to appear in front of the audience again.

There are mesmerizing elements of poetic and spiritual beauty in Angelo's performance. Nyiregyházi-followers will certainly enjoy his style. Please do not miss.

Here is the venue.

Saturday, October 6, 2012 from 7:30 PM to 9:30 PM (BST)
St James' Piccadilly, London, United Kingdom

Tickets are available from the following link:
http://www.angelovillani.com/

Also, see the following press release:
------------------

Australian Pianist Angelo Villani makes much anticipated comeback concert at St James' Piccadilly, London

Saturday 6th October at 7.30pm

Programme:

Liszt - Aprčs une Lecture de Dante: Fantasia quasi Sonata

Liszt - Petrarch Sonnets 47 and 123

Brahms - Ballade Op. 10 No. 1

Brahms – Intermezzo Op. 116 No. 6

Brahms - Rhapsody Op. 79 No. 2

Grieg - 5 Lyric Pieces


"Audiences lucky enough to hear him play will remember the music and its recreation long after the artist's name has escaped them."

Matthew Boyden, musicologist, author, barrister


Australian pianist Angelo Villani makes his much anticipated return to the concert stage with his official London debut at St James' Piccadilly. A former child prodigy in his hometown of Melbourne, Angelo Villani was heading for a promising career as he entered the world's hardest piano competition – the Moscow Tchaikovsky Competition. Like many aspiring young talents, his hopes were dashed by a muscular injury, which has prevented Villani from playing in public for nearly 20 years. 2012 marks the thrilling comeback of a rare talent to the public concert platform.

For his recital at St James Piccadilly, Villani has chosen a programme of Brahms Ballads Op. 10 No.1 in D Minor; Brahms Rhapsody Op. 79 No.2; Brahms Intermezzo Op. 116 No. 6; Grieg 5 Lyric Pieces; Liszt's 2 Petrarch Sonnets No 47 and 123 and Liszt's Dante Sonata. Angelo Villani will play a Fazioli piano.

Villani, who is of Italian extraction, has chosen works by Liszt inspired by his visit to Italy, which resulted in his Années de Pčlerinage Book II. After a lecture on Dante's Divine Comedy, Liszt wrote a fantasia quasi sonata that is a macabre journey into the purgatorio and the inferno before a final glimpse of paradise and redemption. It recounts the tale of Francesca di Rimini, who was conned into marriage with the deformed Gianciotto Malatesta, thinking she was to marry his handsome brother Paolo instead. She and Paolo became lovers, but were caught and killed by Gianciotto. Dante consigned them to hell, where they were bound together for eternity, ceaselessly buffeted by a terrible whirlwind.

As Villani explains: "I love this Faustian tale of the battle between good and evil, angels and villains. Liszt starts this work evoking the hellish whirlwind with the "diabolus in musica" triton – the diminished 5th, known as the interval of the Devil which was accordingly banned in medieval music for its satanic connotations. The tension builds from the opening chord as Liszt plays out a conflict, which echoes the torments of his own life and "forbidden" loves. I have chosen to feature this work alongside Liszt's Petrarch Sonnets, envisaging the poet's unrequited yearning for his love Laura, and Grieg's earthy fairy-tales from Norway."

"If one wished to discover a great artist whose poetic gifts remain untainted by the competitive, prodigy-driven ethos that routinely crushes the musical spirit of so many performers, one need look no further than Angelo Villani. In his virtual absence from the concert stage, Villani has continued to develop his artistic vision and sound world to pitch intensity. It is for us to keep up with him."

Benjamin Martin, pianist and composer


Angelo Villani

Born in Australia to Italian parents, Angelo Villani attended Melbourne's school for musically- gifted children, the Victorian College of the Arts, where his teachers included Alexander Semetsky, a pupil of Emil Gilels, and Stephen McIntyre, a student of Arturo Benedetti Michelangeli. A flourishing career as a teenager included performances of the Tchaikovsky 1st Piano Concerto and Rachmaninov 2nd Concerto with Melbourne Symphony, acclaimed for their dramatic intensity, vision and musical conviction.

Following further recitals and appearances on ABC Television, Angelo Villani won considerable respect and esteem and a promising career seemed forthcoming. Following recommendations by Leslie Howard and Joyce Greer de Holesch to take part in the Moscow Tchaikovsky International Piano Competition, the 23-year-old pianist was accepted for the 9th International Tchaikovsky Competition in 1990.

The young Australian pianist arrived in Moscow a week earlier to prepare himself for the Herculean contest. Shortly before the first round, Villani withdraw owing to a trapped nerve. A potentially important career came to an abrupt halt, whilst Villani travelled internationally seeking effective treatment.

Since settling in London in 1991, Villani has performed sporadically in mostly private gatherings such as the Liszt Society annual meeting performing alongside Kenneth Hamilton and at the Royal Overseas League. He has channeled his extensive knowledge of piano repertoire and recording history in new ways. He gives masterclasses to professional musicians, has written for specialist publications and worked for 7 years in Tower Records, providing expert advice on recordings to customers. When specialist music shops disappeared from the high streets, Villani took up employment as piano teacher at Rosary Primary School (Belsize Park) and Kentish Town Church of England Primary.

Since 2010, tangible improvements have emerged which has allowed Angelo Villani to make a full return to the keyboard and over the past couple of years he has given several private concerts across the UK. 2012 marks a return to form culminating in his official London recital debut.

"Sadly we live in a world where every 6 months or so we are asked to believe that there is a new international pianistic sensation on the block, and of course, rather predictably, this almost never turns out to be anything more than typical journalistic hyperboly. Encountering a really distinctive, idiosyncratic 'new voice' is perhaps rarer than ever. Such a genuine article, appearing as if out of the blue - mercifully without the depressingly standardised credentials - is Angelo Villani who, in spite of his absence from the stage, sounds like a seasoned artist - someone with the charisma, uniqueness, nerve and talent to truly command attention."

Concert pianist Daniel-Ben Pienaar


"Angelo Villani is an artist with original, creative and compelling vision. I am looking forward to his London Debut with great interest and expectations."

Concert pianist Nikolai Demidenko


"Angelo plays with stunning conviction and intensity"

Concert pianist Benjamin Grosvenor


---
3.27.10

Kevin found Gould's unpublished recording of Beethoven Piano concerto No.5. The whole story & recording can be obtained from the following link:

http://www.timescolonist.com/Podcast+Rare+1955+recording+Glenn+Gould+performing+Beethoven+Emperor+Concerto+with+Victoria+Symphony/2731329/story.html

---
3.21.10

I added a short article titled "Nyiregyházi and Bunta Sugawara" to "Nyiregyházi and Japan"
section.

---
3.16.10

Stephen Hough writes about EN and "Lost Genius"
http://blogs.telegraph.co.uk/culture/stephenhough/100007078/is-this-liszt-playing/

A positive review for "Ushinawareta Tensai (the Japanese edition of "Lost Genius") has appeared on the Asahi shinbun newspaper a few days ago. The circulation number of the Asahi Shinbun in Japan is 4~8 millions and so we should see a positive effect.......

---
2.17.10

1978 CTV & NBC documentaries are on youtube.
http://www.youtube.com/watch?v=g9_bDhMPoGU&feature=related

---
1.20.10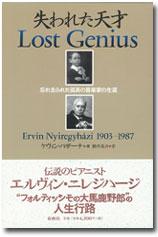 The Japanese edition of "Lost Genius", "Ushinawareta Tensai" will finally appear in the market next week. It is translated by Mr. Keisuke Suzuki and sold from Shunjusha.

http://www.shunjusha.co.jp/detail/isbn/978-4-393-93520-0/

When I was looking for a Japanese publisher for this book, Mr. Jun Kinoshita and Dr. Junichi Miyazawa helped me to contact with Shunjusha three years ago. I would like to thank them again.










---
7.5.09

Gordon Rumson, a Candian pianist and composer, has uploaded his performance on "Tonal Drama (composed by EN" on his web page. gordonrumson.org
4.25.09

Toronto star's blog discusses on EN.

http://thestar.blogs.com/soundmind/

Kevin Bazzana has been looking for a copy of films where EN's piano performance was potentially recorded (e.g. "Lummox" (1930) , Fashions in Love (1929)). Are there any film enthusiasts who have these materials?

---
3.18.09

Two reviews for Music and Arts CD12-2 have appeared.

http://www.arkivmusic.com/classical/album.jsp?album_id=180838

http://www.musicweb-international.com/classrev/2009/Mar09/Nyiregyházi_MAcd1202.htm


---
3.9.9

Mr. Michael Sayers, a pianist who runs a Nyiregyházi site, has uploaded his performance on Nyiregyházi piano works. Please visit:

http://www.youtube.com/user/PianistMichaelSayers

http://www.michaelsayers.com/recitalkahns2003031213/

---
2.24.9

There was a radio program about EN in November on CBC. Kevin Bazzana was intervived.

http://www.cbc.ca/radio2/blog/2008/11/16/today_on_radio_2_161_1.html

Several EN-related articles are available via Gramophone.net.

http://www.gramophone.net/


---
1/3/09

There is a funny review of Lost Genius from American Way Magazine.

---
10/02/08

An old article about EN is available from Time.com. It was written 30 years ago.
http://www.time.com/time/magazine/article/0,9171,919731,00.html?iid=digg_share

---
10/02/08

The New York Times has briefly introduced "Lost Genius" in the Sunday book review.

---
10/01/08

Kenneth Hamilton briefly discusses about EN in his recent book, After the golden age (2008). Please see the link .

---
9/28/08

Several reviews for the Music and Arts CD have been appeared in the following magazines/pages.

1) Fanfare (by Mr. Peter J. Rabinowitz), Sept-Oct 2008 issue
http://www.fanfaremag.com/content/view/25966/10238/
Available online with subscription. A positive review.

2) Classical Record Collector (by Mr. Colin Clarke), Spring issue
Not Available online. A positive review.

3) American Record Guide (by Mr. Alan Becker), May-June 2008 issue
Not available on line. A negative review.

---
9/21/08

The following book reviews have been available.
Lost Genius
a) Cape Gazette [Lewes, Delaware], May 29, 2008 (not online).
"Noted music author Bazzana has orchestrated a lucid, revealing and balanced biography of an enormously talented, but deeply troubled mad genius. … The author's passion and knowledge of music is evident as he is able to convey technical aspects of music in easy-to-understand and interesting terms. Bazzana hits all the right notes in Lost Genius, which is a compelling and entertaining saga.---Gerry Lore"

b) May-June 2008 issue of the International Piano (not online).
"It is a superb biography: a Hollywood scriptwriter could not have dreamt up such an improbable narrative. Bazzana reveals in closely researched detail the chain of events that led Nyiregyházi from being potentially one of the greatest pianists in history to becoming a deluded, sex-obsessed recluse living on handouts.---Jeremy Nicholas"

c) June 2008, the American cultural magazine Chronicles (not online).
"Bazzana has crafted an improbably balanced book about an impossibly unbalanced man. ... The story as told is a revelation of absurdity, wild humor, and self-imposed suffering—a dialectical ride on the see-saw of degradation and transcendence, an appalling and exalting tour of the mystery of music, and of the heart.---James O. Tate"

d) The Buffalo News, August 24, 2008

e) The US paperback (Augusta, Georgia)

---
9/20/08

Sorry for not updating the site for a long time. I have been quite busy for my relocation to London. There are several news that I would need to post.

Kevin Bazzana has won the Nicolas Slonimsky Award for Musical Biography (The Amercian Society of Composers, Authors, and Publishers) for "Lost Genius". He won the same award a few years ago for his Gould biography. The award ceremony is to be held at Lincoln Center, NY, on December 9th, 2008.

Kevin Bazzana has written up for an article entitled "Nyiregyházi, James Sample, and the Federal Music Project" for fugue.us.

---
5/21/08

Kevin Bazzana posted the Nyiregyházi-Einstein information to this site. Please check "Nyiregyházi and Einstein" section.


---
5/16/08

As announced, the May/June issue of International piano has an article on EN, which is written by Mr. Jeremy Nicholas. I have provided a few photos to them. I haven't seen the issue yet, though.

A book review, which is identical to the one that has appeared in Palmbeachpost.com, can be now seen in the Chicago Tribune.

http://www.chicagotribune.com/features/lifestyle/chi-lost-genius-reader-0512may12,0,362430,print.story

Kevin informed me that there is an anecdote related to EN and Einstein (!). He will let me know details. Please come back later on.


---
4/28/08

A book review appeared in Bibank.com.
http://www.bibank.com/portal/story.asp?idstr=116800554


---
4/18/08

There is a brief review for "Lost Genius" on a Canadian magazine (in French). They give 6 stars: http://www.scena.org/pdf-files/sm12-6.pdf


---
4/17/08

Mr. Guy Rickards in International Piano writes a one page- review on the M&A release: He admires EN's Liszt and Chopin, and concludes that the CD offers EN's "exalted, exasperating, and exciting playing" and provides a view on "the shadowy career of a true but flawed" great artist. Please see their March/April issue for more details.

---
4/7/08

An article about EN will appear in International Piano (May 6 2008).
International Piano also reviewed the Music and Arts CD in their March/April 2008 issue.


---
3/23/08

A Japanese edition of "Wondrous Strange:the life and art of Glenn Gould" (by Kevin Bazzana) appears from Hakusuisya.
http://www.hakusuisha.co.jp/detail/index.php?pro_id=02711


---
3/20/08

Kevin appears in a radio program, "Take 5," on CIUT (89.5 FM), the campus station of the University of Toronto (46:10 to 56:35.)

http://archives.take5.fm/2008/03/19/march-19-2008.aspx

---

3/10/08

A good review for "Lost genius" has been appeared in Palmbeachpost.com

Also, a review has been appeared in Feb issue of "Klassik", a classic music magazine in Norway.

---

3/7/08

The ceremony for the Charles Taylor Prize was broadcasted on CBC radio. Here is the ram file:

http://www.cbc.ca/ottawa/media/audio/ontariotoday/03a.ram

Kevin appears and talks about EN from 10:30 to 15:40.

---
3/6/08

As reported on 12/5/08 in this section, Schott plans to publish EN's compositions within 2008. More information will be coming later on.......

---
3/3/08

The winner of the Charkes Taylor Prize has been announced today. Kevin's "Lost genius" was one of five runners-up.
http://www.thecharlestaylorprize.ca/photogallery_2008.asp

Richard Gwyn's book wins the prize (http://www.thecharlestaylorprize.ca/news.asp). Kevin has received $2,000 as a finalist. We all congratulate him, regarldess of the final decision.

---
2/29/08

Last night I watched a documentary film called Note by Note. It is about the making process of one Steinway piano named L1037. The most interesting part of the whole thing was that you can play the L1037 piano after the film. I played it for 20 min and found that it is a wonderful instrument (it's like a fine sports car). If you would like to touch it, there will be opportunities in Portland and Waterwille.


---
2/27/08

Forbes interviewed Kevin. Here is the link to the article.

http://www.forbes.com/books/2008/02/27/hungary-pianist-Nyiregyházi-oped-books-cx_rh_0227bazzana.html

January Magazine also introduces Kevin and "Lost genius".
http://www.januarymagazine.com/index.html

---

2/19/07

A short book review appears in The Atlantic.
http://www.theatlantic.com/doc/200803/new-books

---

2/17/07

A book review appears in Deseret Morning News.

http://www.deseretnews.com/article/1,5143,695253287,00.html

---

2/6/08

I am writing from Tokyo. It's heavily snowing today.

John Manley was on CBC radio (Gomeshi's show) and discussed on "Lost genius". He made a quite positive comment on the book around 7:45 to 8:30.

http://podcast.cbc.ca/mp3/qpodcast_20080130_4581.mp3


---


1/24/07

The Los Angeles Times introduces EN and "Lost genius". Please check the link.

http://www.latimes.com/entertainment/news/music/la-ca-critic27jan27,1,2452714.story


---

1/22/08

"Lost genius" has been nominated for The Charles Taylor Prize for Literary Non-Fiction.
http://www.thecharlestaylorprize.ca/2008/finalists_2008.asp

---

1/11/08

There will be a short review for "Lost genius" in the "American Record Guide" in January/February 2008 issues.
A paperback version of "Lost genius" will appear at the end of February. The cover is shown here.


---

1/8/08

The American Hungarian Federation introduces Kevin's book on their cultural news section. The author mentions his personal encounter with EN.

http://www.americanhungarianfederation.org/culturalnews_Nyiregyházi.htm


---

12/30/07

"Lost genius" has been nominated by the American music press for the"Best Book" award. Please check below:

http://www.musicpressreport.com/


---

12/29/07

Here is an article about an interesting encounter between Glenn Gould and Ervin Nyiregyházi. In 1982, Gould was asked to play in EN-style by an engineer during one of his recording sessions (Brahms). He laughed loudly and said "I haven't studied his style!". The engineer said "I'll send you a number of records". GG replied "No, no, I have them. That's why I haven't studied them...".

You could hear the audio clip (around 25:47):

http://dotsandloops.net/headlines/iid/612701

http://www.collectionscanada.gc.ca/obj/028010/f3/nlc005663.ram

According to Kevin, GG owned one of EN's masterworks LPs, but he had never opened it.


---

12/23/07
"Lost Genius" has won an award from a British magazine (The International Piano Awards 2007: Book of the Year). The citation says:

"'The curious and tragic story of an extraordinary musical prodigy' is this book's accurate sub-title. The prodigy in question is Ervin Nyiregyházi (1903-87), whose astonishing life story is too improbable for fiction. Bazzana tells his story in a fluent, assured, and immaculately researched biography that reads more like a novel."


---

12/20/07

The ending of CTV documentary. EN was drinking during the sequence.
""Maybe I am even a greater man than a pianist"......if you said that to me, I will just kiss you!"


---

12/18/07

EN talks about his life without haiving a piano (CTV documentary in 1978).


---

12/17/07

A book review for Lost genius was posted to CourierPost Online.


---

12/14/07

EN speaks of his performance at Buckingham palace (CTV documentary in 1978).Further details of this performance are described in "Lost genius".

ref) Nyiregyházi standing at the Buckingham palace with his father (1911)

---

12/12/07

EN speaks of his "slum-period" (CTV documentary in 1978).

I've just heard that the release of M&A CD 1202 has been delayed again. It's not a major delay, though. We will probably see the product before the end of this month. Let's be patient.


---

12/7/07

Music and Arts officially anounced the CD (CD-1202(2) ERVIN NYIREGYHÁZI IN PERFORMANCE: LIVE RECORDINGS, 1972-1982.) on their web site.

http://www.musicandarts.com/1207_New_Class.html

The site also mentions the Japanese edition of "Lost genius", which I have not talked here yet. The Japanese edition will appear from Shunjusha, a prestigious publisher in Japan. I was involved in finding the publisher. Junichi Miyazawa, a famous Gould researcher, helped the process, too.


---

12/6/07

EN's photos, taken by Yoshimasa Hatano in 1982, are added to the Archive and "Nyiregyházi and Japan" section.

---

12/5/07

Schott, one of the largest and the most influential sheetmusic/music book publishers in the world (also publishes "Lost Genius" in Germany), has reached agreement with the Nyiregyházi Foundation. Schott plans/considers to publish EN's compositions and recordings and reprint Revesz's book and EN's pre-published works. They also hope to publish TV documentaries.

It is likely that we will have a good year in 2008.

---


12/4/2007

Top 10 download ranking in November 2007:

/WAVE.mp3
/Mazeppa.mp3
/flower_waltz.mp3
/Brahmsmove1.mp3
/Il_Penseroso.mp3
/DANTE_SONATA.mp3
/Liebestod.mp3
/Mazurka_In_C-sharp_minor.mp3
/Faust-Gretchen.mp3
/Soul_of_monster.mp3


---

12/3/07

"Lost Genius" was named one of the best books of 2007 by The Grobe & Mail and The Washington Post. If you would like to read book reviews, please visit the Archive section.


---


11/28/07

M&A CD will be on sale from HMV Japan on Dec 27, 2007.

http://www.hmv.co.jp/product/detail/2661757

http://www.hmv.co.jp/news/article/711280087

The album is already at 9th in the ranking for pre-ordered items (just one position behind of Karajan's EMI box set).

---

11/16/07

Kevin Bazzana-Lost genius Interview appears in Santa Fe New Mexican.

It's a bit tricky to reach the section. Go to p54, 55, 56 and then select "Graphic" to read.

---

11/14/07

Here is the cover photo of Music and Arts CDs.

A first book review for the German edition appeares in Die Zeit.

http://www.zeit.de/2007/46/M-Ny-regyh-zi?page=all

It's only in German. Acording to Kevin, a sentence says "it reads like "the best fiction", even like a detective novel"........


---

11/7/07

Two photos of art works related to EN are added to the archive section. These arts were created right after EN moved to the states. You could imagine how popular he was then.

1. A bust (probably made by Charles Andrew Hafner, around 1920-21). The photo was taken by Nicholas Haz.

2. A mask (by "Grace Marion Browne" (possibly Grace Marion Brown, a graphic artist), around 1920-21).


---

11/6/07

Two EN's photos taken in 1920's are added to the archive section. These are from the Library of Congress. #1, #2. The former photo is also used in Wikipedia.

Thanks for your information, Kevin.

---

11/2/07

Music and Arts CD "Live Recordings 1972-1982" can be pre-ordered through Amazon.com. Here is the tracklist.


---


11/1/07

The recording of Liszt: "Il Penseroso" is added to "Live/Studio Recordings (1972-85)" section. This was recorded on the R. Antonioli's house in July 29th, 1973 .

---


10/30/07

Here is the top 10 download files of this month. To access to each file, you could type it after "www.fugue.us". (e.g. www.fugue.us//WAVE.mp3)

/WAVE.mp3
/Mazeppa.mp3
/Brahmsmov2.mp3
/flower_waltz.mp3
/DANTE_SONATA.mp3
/Brahmsmove1.mp3
/Mazurka_In_C-sharp_minor.mp3
/Liebestod.mp3
/Soul_of_monster.mp3
/RhapsodyOp119_4.mp3

---

10/25/07

A book review will appear in the New York Times on Sunday.

http://www.nytimes.com/2007/10/28/books/review/Kimmelman-t.html?_r=1&8bu&emc=bu&oref=slogin


All other book reviews and a radio interview program are accessible through Nyiregyházi archive section.



---

10/24/07

A book review appears in the Wall Street Journal. The article mentions M&A CDs and fugue.us.

http://www.opinionjournal.com/la/?id=110010774

---

10/23/07

A short book review is available in The New Yorker.

http://www.newyorker.com/arts/reviews/brieflynoted/2007/10/29/071029crbn_brieflynoted4

---

10/17/08

Mr. Dirda kindly allows me to post my translation of his review published in the Washington Post to Japanese edition of fugue.us. Please check the archive page.

---


10/16/07

According to G. Revesz's "The Psychology of a Music Prodigy" (1913), Ervin had complete absolute pitch when he was at 7. He hardly made a mistake regardless of the difficulty of listening tests that Revesz conducted.

Please try these three chords.

EN gave perfect answers to the first and second chords after listeing them just once. He needed to hear the third chord twice, and he missed only 3 out of 13 notes. But he did not point out a wrong note.

Here is the answer.

---

10/15/07

Here is the review posted in the Washington Post. Very positive one ("Lost Genius offers much more than the elegance of the Vienna Philharmonic and the fun of the Boston Pops...........").

http://www.washingtonpost.com/wp-dyn/content/article/2007/10/11/AR2007101101936.html

---

10/12/07

EN appeared in a 1945 film "A Song to remember". His hands are on the screen, but he is NOT on the soundtrack (Jose Iturbi plays the music).
http://www.youtube.com/watch?v=AsHIErahbWs&mode=related&search=
http://www.youtube.com/watch?v=JNzwcFihh5I

Also, here is some film footage showing Henry Daniell, who appeared as Liszt in a 1947 film "Song of Love". EN doubles his performance sequence (Mephisto Waltz No.1 and Schumann's Wildmung) in that movie. EN's appearance was very similar to Daniell then. Unfortunately, EN is NOT on the soundtrack again (Arthur Rubinstein plays the music).
http://www.youtube.com/watch?v=LxCZthMsxEQ

For more details, please check ""Lost genius".


---


10/5/07

I've made the "1987-present" section in the Nyiregyházi Archive. Cover photos of Kevin's book and M&A CD information are posted.

A film footage of EN's performance in "Soul of a Monster" will be posted next week. You will be able to see it only for a few days. So, please don't miss it. Please check Recording fragments from films and a promotinal LP (1929-46) early next week.


---

10/4/07

When Gould died, it was just days after I bought his new version of Goldberg variation. 25 years! I can't believe it.......

A book review for Lost genius is available in the New York Sun
http://www.nysun.com/article/63851
Additional reviews will be available in the Washington Post, the New York Times, and Wall Street Journal soon. I will keep updating the information here. The November-December issue of International Piano also will discuss on "Lost Genius".

The US and German editions of Lost genius can be ordered through Amazon.com. The latter (Pianist X) will be launched at the Frankfurt Book Fair.


---

10/2/07

A part of "Beast with five fingers", where EN's left hand plays Bach, is posted in Youtube.

http://www.youtube.com/watch?v=dckSnbIWB6w&mode=related&search=
http://www.youtube.com/watch?v=AopTqKF4J6k

Peter Lorre!! I think the Special effect is wonderful for that period, too. The great Luis Bunuel was involved in this film before he moved to Mexico and Europe.


---

10/1/07

I added one photo of EN (1920's) to the archive section.
I heard that M&A CD arrival will be delayed now and it will come out in November or December. Let's be patient.†

Here is the top 10 list of downloaded mp3 files (9/1-9/31).

/Liebestod.mp3
/WAVE.mp3
/Eglogue.mp3
/Brahmsmove1.mp3
/Soul_of_monster.mp3
/La_Lugubre_Gondla.mp3
/DANTE_SONATA.mp3
/Faust-Gretchen.mp3
/RhapsodyOp119_4.mp3
/flower_waltz.mp3

P.S. ....People tend to listen to only the first movement of Brahms Sonata, probably due to the position in the page. But please don't forget about the 2nd movement. It is a mesmerizing performance, although the recording sonority has some problems.

---


9/28/07

Sorry for changing the page design frequently. This may take a while until I find the one I like.....


---


9/25/07

I posted EN's unpublished recording of Chopin: Mazurka (Op6). This was performed right after the "Wave" in the Old first church concert in 1973. Please visit "Live/Studio recordings".

---

9/18/07
EN (actually, his left hand) appeared in 1946 film "Beast with Five Fingers". He was on the soundtrack (his performances of "Chaconne" (Bach=Brahms) can be heard in at least three sequences). Please check "Recording fragments from films and a promotinal LP (1929-46)" to listen to them.

---


9/12/07

I uploaded Wagner: "Liebestod" from "Tristan und Isolde". This was recorded in 1978 for a Canadian TV documentary. Only a part was used in the actual documentary.

I regard this an impressive performace, capturing the spirit of the work, despite the wrong notes. There is one more unpublished recording of "Liebestod", taped probably in 1982. The 1978 version is technically better.

Please visit "Live/Studio recordings".

---

9/10/07

Ford Foundation, which financially supported EN in late 1970's, describes their involvement with EN on their web page. Their support generated two Masterworks LPs.

http://www.fordfound.org/elibrary/documents/0213/041.cfm

---

9/7/07

Pavarotti died. I loved his early recordings, including "che gelida manina", recorded with von Karajan.

I posted EN's performance of Liszt: La Lugubre Gondola, which was composed when Wagner died. This was recorded at Forest Hill Club house in 1973. This recording does not have the first 27 seconds.

---

9/4/07

I posted the recording of Liszt: Eglogue in the "Live/Studio recordings" section. This was recorded on Dec 17, 1972, at the century club.

---

9/1/07

The current issue of "Piano" discusses on Nyiregyházi. The writer is a famous pianist, Mr. Anton Kuerti. You could get more information from a publisher's page.

I heard that this site is referred (I provided a photo) but I have not read the magazine yet.

---


8/31/07

For whom do not know how to pronounce "Nyiregyházi".

The speaker is EN himself.

----------
8/29/07

Kevin said the US and the Candian editions are the same book with minor changes in the source notes and typos. The cover and the subtitle are different obviously.

---


8/28/07

The US edition of "Lost genius" is available from Amazon.com today.

http://www.amazon.com/Lost-Genius-Curious-Extraordinary-Musical/dp/0786720883/ref=pd_bbs_sr_1/104-7357346-9859163?ie=UTF8&s=books&qid=1188345766&sr=8-1

Kevin, are there any alterations from the Canadian edition?

---

8/21/07

I heard that Music and Arts CD (track) will appear at the end of September as scheduled. I will keep you informed about this.
I posted an ad for his 1982 concert in Tokyo (click) in the Archive and Japanese sections.

---


8/16/07

Since there are significant numbers of recording tracks in my site now, I created the "Chef's choice" page so that new visitors would know which one they should listen to first. The choice will be changed, depending on my mood.

I posted the final movement of Brahms Sonata.


---


8/14/07

Here is a recent book review published in Library Journal.

Bazzana, Kevin. Lost Genius: The Story of a Forgotten Musical Maverick.
Carroll & Graf. Sept. 2007. c.384p. illus. bibliog. index. ISBN
978-0-78672-088-0. $27.99. MUSIC
In this well-documented biography of little-known Hungarian pianist and
composer Ervin Nyiregyházi (1903-87), Bazzana (Wondrous Strange: The Life
and Art of Glenn Gould) draws on Géza Révész's 1925 Psychology of a Musical
Prodigy but expands the canvas to cover an entire lifetime. Through
interviews and the examination of primary sources, Bazzana traces the
pianist's formative years in Europe from his grade-school-age concertizing
to his popular world tours, distressing relationships with managers and
promoters, difficulties with alcohol and sex addiction, and encounters with
contemporaries, including actors Béla Lugosi and Harold Lloyd and even
gangsters Al Capone and John Dillinger. One empathizes with Nyiregyházi as
he careens from superstar to penniless drudge to adored advocate of
romanticism and back to homelessness, all within a few years. Nyiregyházi's
ten wives and affairs with luminaries such as silent screen star Gloria
Swanson make his relations with women prime territory, but it is unfortunate
that Bazzana concentrates so much on this and chooses crude, off-putting
language to describe the pianist's sexuality. The contemporary photographs
and facsimiles of musical scores add interest, and the comprehensive index
is useful. Recommended, with the above caveats, for all collections.
- Barry Zaslow, Miami Univ. Libs., Oxford, OH

---

8/08/07

I uploaded EN's 1972 performance, Brahms Sonata No3 ( the 3rd and 4rth movements). I will update the final movement later on. This sonata was performed in the Century club. Please visit "Live/Studio recordings".

---

8/07/07

"Piano", British magazine from Rhinegold Publishing, will discuss about Nyiregyházi in the Aug/Sep issue, which will appear at the end of this month. I have provided a photo image to them, but I don't really know how the detail will be. Please check their web site (www.rhinegold.co.uk) after a few weeks. I will update the information here, too.


---


8/4/7

I uploaded EN's 1973 performance, Liszt: Au lac de Wallenstadt. This was recorded in at Mr. Antonioli's home. Please visit "Live/Studio recordings".


7/30/7



One of the greatest artists whom I have admired died.........

I uploaded an ad for the 4th international high school music and fine art competiton ("Nyiregyházi competition).

Here is the top 10 downloaded files of the month (7/1~7/30/07).

1) Liszt: Dante Sonata
2) Liszt: Two legends: Wave
3) Brahms: Piano Sonata mov.1
4) Debussy, La pluse lent
5) Liszt: Faust Gretchen
6) Schubert: Am Meer
7) Debussy: Pagodes
8) Brahms: Sonata Mov2
9) Liszt: Funeral March
10) Brahms Rhapsody Op119-4

---

7/26/7

One more recording from the Forest hill club recital (1973)------"Sunt lacrymae rerum" by Liszt. Please check the Studio/Live recording section. His performance in this recital is more technically stable than the others and the recording sonority is decent. Unfortunatelly, "two legends" were not recorded due to EN's request before the performance (see "Lost genius" for details).

Mr. Sekikawa, a famous Satsuma-biwa (Japanese guitar) player who invited EN to Japan in 1980 and 1982, told me that when EN played this work in Takasaki in 1980, EN specifically told him to change the title to "Chi-no-youna-Namida=Blood-like tears". The altered Japanese title was also used in a LP set "Messengers of Peace"(Toshiba).

---

7/24/07

I posted a first page of "A Soldier of Fortune (1939)" in the archive section. Please check "Rhythmic Notation" at the bottom of the score. You will be amused.



---

7/22/07

Kevin Bazzana writes a review for "Life and Death of Classical music" By Norman Lebrecht. I read the same book a few months ago and completely agree with Kevin's view. I have written a review about this book and NL's on-line articles. If you can read Japanese, please visit the Japanese edition of fugue.us (Intermezzo).

A part of 1978 CTV EN doumentary is posted to Youtube. The guy with beard is, I believe, Mr. Benko.


-----Error correction: I was told that this documentary was actually from the NBC documentary "the lost genius" (7.29.07)

---

7/19/07

EN's 1973 live performance "Rhapsody Op119-4 (Brahms)" can be heard in the "Live/Studio Recordings" section. This was performed in Forest Hill Club house.

Also, Kevin Bazzana sent me a book review appeared in Booklist (August 1, 2007).

"Playing the piano and composing at three, performing publicly at six, Ervin Nyiregyházi (1903–87) mastered the romantic repertoire, especially Liszt, very early. Isolated from age mates because of his gifts, he grew up to be sexually insatiable and married 10 times. Infantile in personality, he depended on others to promote his career and manage his life. Famous as a teen playing in Europe and the U.S., he was forgotten at 25 and settled in California. He thereafter played in movies, serving as a hand double, but seldom performed in public. Shy and retiring, he feared performing though his technique was loud and powerful. Rediscovered in the 1970s, he made several studio recordings. He composed constantly, though little of his work was published or performed. As in his biography of Glenn Gould, Wondrous Strange (2004), Bazzana bares the soul of his subject and reveals a musician who should be remembered as the peer of such contemporaries as Arrau, Horowitz, and Rudolf Serkin. Rather than waxing and waning twice, his star should have shone constantly."
— Alan Hirsch

---


7/16/07

You can find a music manuscript of EN's earily work "Mephisto Fantasie" (1919) in the Archive Section.

---


7/12/07

I posted EN's recording of Liszt: Funeral March "In memory of Maximillian, Emperor of Mexico"(Marche funebre (In magnis et voluisse sat est), which was performaned and recorded at Forest Hill Club in 1973. It is one of the most gigantic performances without showing technical decline. Please visit Live/Studio recordings.

---


7/9/07

I posted the first pages of scores of "Grande Sonate Heroique" (1917) and " Trimph!" (1919) in the archive section. I am not sure if I will update the entire scores of these works in the future, but those can also be found in the Library of Congress and probably in the IPA.

---

7/6/07

Kevin Bazzana sent me an image of German (Click) edition of "Lost genius" cover page. Very interesting title!

Also, there are three book reviews available.
1) Review in Canada
2) Kirkus Review
3) Publisher's weekly reviews


---

7/5/07

EN's unpublished recording "Am Meer"(Schubert-Liszt) has been posted. Please check the "Live/Studio recording" section. I like this recording a lot.

---

7/3/07

I posted a music manuscript (unpublished) of "Longing for America" (1931). Please check the Nyiregyházi Archive section.

---

6/2907
I posted EN's unpublished recording "Dante Sonata" (7/29/1973). Please check the "Live/Studio recording" section.

The cover of US edition of Lost genius US can be seen here (click).

---

6/2507

I posted music manuscripts (unpublished) of "The Truncated Life-Task (No.I)", "The Laughters of the Murderer". Please check the Nyiregyházi Archive section. Both works were composed in April, 1986.

---

6/2207
I posted EN's unpublished recording "Pagodes" (5/6/1973). Please check the "Live/Studio recording" section.

---


6/1307

I posted EN's unpublished recording "Brahms Sonata No.3 (1st and 2nd movements)" (12/17/1972). Please check the "Live/Studio recording" section.


---

|6/10/07

I posted musicmanuscripts of two unpublished works, "Japanese Monody" (June 1980) and "Untitled (Allegro Moderato)(June 1970). The former material, which was provided by Mr. Jun Kinoshita, was composed after his 1980 concerts in Japan. Please check Nyiregyahzi Archive section or Nyiregyházi and Japan section.


---

|6/8/07


A new book review appeared.
http://www.quillandquire.com/reviews/review.cfm?review_id=5531

Also, new book blurbs from two critics working for major newspapers has just arrived. They sound very positive.

"Kevin Bazzana, whose biography of Glenn Gould managed the
extraordinary feat of doing full justice to a complicated genius, here takes
on a very different challenge. Even those who don't yet know the name of
Ervin Nyiregyházi (let alone how to pronounce it!) will find this latter-day
saga of a lost pianist wrenching, beautifully told and, on occasion, grimly
hilarious. Nyiregyházi comes off as a cross between Mozart and Charles
Bukowski--a person endowed, in equal measure, with enormous gifts and an
appalling drive toward self-destruction--and this 'riches-to-rags' chronicle
of a life that encompassed performances in European palaces and a long
residence on 'skid row' in downtown Los Angeles is one of the great musical
biographies."
-- Tim Page, music critic, The Washington Post6/7/07


"As a child prodigy and young touring virtuoso, Ervin Nyiregyházi
won the admiration of crowned heads, critics, and some of the greatest
musicians of his era. In later decades, his "lost genius," his uniquely
mesmerizing mastery of the keyboard, was as repeatedly rediscovered as the
pianist himself repeatedly disappeared into skid-row obscurity. In a
chronicle crowded with colorful charactere--a famous novelist, a
prize-fighter, unscrupulous managers, divas, whores, and even Count Dracula,
Bela Lugosi--the most colorful and conflicted figure of all is Nyiregyházi
himself: he never did anything that anyone else wanted him to, if he could
help it. The tragedy of musical genius deflected developed in counterpoint
to the triumph of remaining true to himself, no matter what the cost. His
life was a bizarre and unpredictable 'Symphonie fantastique' in many
contrasting movements. Kevin Bazzana's enthralling biography conducts us
through it with compassion, insight, humor, humanity and a proper degree of
amazement.
-- Richard Dyer, music critic, Boston Globe


---

6/6/07

I posted EN's unpublished recording "La Plus Que Lent" (5/6/1973). Please check the "Live/Studio recording" section.

---

6/3/07

An unpublished manuscript of a composition (1945) was added to the Nyiregyházi archive section.


---


5/31/07

EN performed "Faust symphony" at the Robert Antonioli's home. I posted the recording of "Gretchen (2nd movement)", which is quite lovely. Please check the "Live/Studio recording" section.


---


5/27/07

I posted Nyiregyházi's 1927&1984 composition "Amongst the Ruins of the past". Please check the N archive section. There is a sound file, too.

---


5/23/07

I start posting Nyiregyházi's recent recording (1 recording per week or 10 days). They are mainly unpublished ones that wouldn't be included even in Music and Arts release; however, I feel I should start from this, even though it will be included in M&A CD.
List Legendes No.2, "St. Francois De Paule Marchant Sur les flots" ("Wave").


---
5/22/07

I posted EN's 1982 Japan tour program with his handwritten note. This is from a friend of mine, Jun Kinoshita (Piano music CD selection (Japanese language only)). The program is quite big (22 pages) and thus I posted only a part of it. You could also find Nyiregyházi's music manuscript of "Ninety Five Years Ago", which was composed on 7/31/1981. Please check the "Nyiregyházi and Japan" or the "Nyiregyházi Archive" section.

I am informed that two renowned artists greately endorse "Lost Genius"-------Stephen Hough (http://www.stephenhough.com/) and David Dubal (http://www.daviddubal.com/). These blurbs, forwarded by Kevin, will be put on the back of US edition of "Lost genius":

" Passionate, level-headed, scrupulously detailed, affectionate,
this is a wonderful biography about an intriguing and difficult figure, whom
Bazzana handles with supreme delicacy. As a student, I still remember
Nyiregyházi's opening bars of 'Aux cyprčs de la Villa d'Este' on the CBS
record, which I heard with open ears, mind, and mouth. It was staggering and
deeply inspiring."
- Stephen Hough


______ D. Dubal's blurb is taken out on 5/22/07, as it is written only for the jacket. Sorry!
---



5/21/07

I updated the "Nyiregyházi and Japan" section a bit. The section will have all materials related to his concert tours in Japan (photos, programs, and hopefully compositions in near future). Programs of 1982 recitals will be uploaded soon.

Please check the following link. One of EN's performances in 1982. As Kevin admires in his book, this is one of the most beautiful EN's performances.

http://www.savefile.com/files/611701


---


5/15/07

Mr. Jun Kinoshita (Piano music CD selection (Japanese language only)) provided me copies of 1980 (Takasaki) and 1982 (Tokyo) concert programs written by Nyiregyházi himself. I upoladed those of Takasaki recitals. See the Nyiregyházi Archive section .


---

5/7/07

Mr. William Shatner (http://imdb.com/name/nm0000638/) appears to love Kevin's "Lost genius".
This makes Kevin very happy. I didn't know that he likes "Star Trek".

See the link: http://www.canada.com/victoriatimescolonist/news/arts/story.html?id=02054681-6b23-4bd1-8f3a-2c8372592a79

Let's see if this leads to something big.........

I started uploading Nyiregyházi's concert programs between 1950's to 80's. There will be some interesting materials. Please check the Nyiregyházi archive section constantly for a while.



---

5/4/07

Kevin Bazzana appeared on a CBC program. Check below.
http://www.cbc.ca/nxnw/


---

4/26/07
Music & Arts CD "tentative" tracklist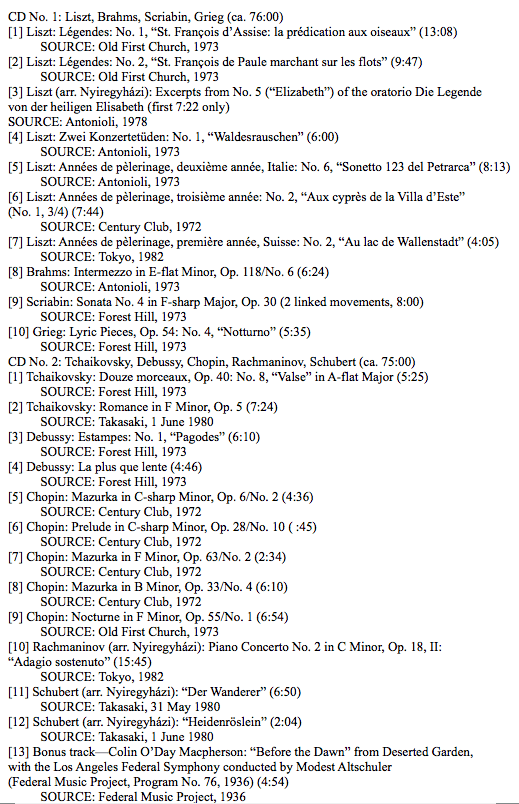 The above sheet, which was generated by Kevin, is a tentative tracklist of Music & Arts CD 1202. I'll update this whenever it's renewed.

I uploaded photos showing Nyiregyházi's hands (his last years). Please check the Nyiregyhazy archive section.


---


4/24/07
A new book review appeared.
http://www.thestar.com/article/202513
Two reviews from Quill and Quire and Gramophone will be available soon.
Also, I uploaded Nyiregyházi's passport photos (#1-#5). Please check the Nyiregyházi Archive section.

---

4/3/07

I have been uploading Frederic Lamond's recordings in the "Ervin's Master's Voice" section (they are nice). He was Ervin Nyiregyházi's teacher.
More photos of Nyiregyházi will be coming!

---


3/18/07

Anton Kuerti, a famous Austrian pianist, wrote a book review for the Globe & Mail.
http://www.theglobeandmail.com/servlet/story/LAC.20070317.BKGENI17/TPStory/TPEntertainment/Theatre/






---
3/13/7
Kevin Bazzana provides me the following note about his book and short summary of Nyiregyházi's life .
_______________________________________________

Lost Genius:
The Story of a Forgetten Musical Maverick

By Kevin Bazzana




Ervin Nyiregyházi (1923)




Lost Genius is a biography of the Hungarian-American pianist and composer Ervin Nyiregyházi. His name (pronounced "air-veen nyeer-edge-hah-zee") is little known today, except among historical-piano buffs, yet the testimony of fellow-musicians, critics, and other reliable witnesses, and of what documents and recordings survive, reveals that he was one of the greatest and most idiosyncratic performers of the twentieth century, as well as a prolific composer in a strange, very personal idiom. Moreover, he was astonishingly eccentric, and his bizarre life and personality would make for a fascinating biography even had he not been an exceptional artist. (His story has caught the interest of movie companies over the years—as recently as the mid-1990s.) The book explores Nyiregyházi's life and art in detail, and makes a case for him as a geniune lost genius of twentieth-century music.

*

Born in Budapest, in 1903, Ervin Nyiregyházi was one of the most remarkable child prodigies in music history. In fact, a book devoted to his gifts was published when he was just 13: The Psychology of a Music Prodigy, by Geza Révész. (It remains a classic in the field of child psychology.) He studied at the local academy of music, and word of his gifts spread quickly. His parents exploited his talent, presenting him before countless local and visiting aristocrats, intellectuals, businessmen, and cultural figures (including composers like Lehár and Puccini and many of the great performers of the day). At 6, he gave his first public recital; at 8, he played for the nobility in London and for the royal family at Buckingham Palace.
Everywhere he earned praise and patronage, though being an idealistic and strong-willed child he chafed against the prodigy life. Ultimately, his anger at his parents' exploitation and control, his shame of his family's lower-middle-class status, his experiences of anti-Semitism, and his mother's particular abuse all left lasting psychological scars.
During the First World War, he studied in Berlin (his piano teachers were Dohnányi and Lamond), and at 12 he made his concerto début with the Berlin Philharmonic. In his teens, he gave concerts throughout central Europe, playing often huge programs featuring the most difficult solo works and concertos, in performances that amazed audiences, critics, and musicians.
In the fall of 1920, at 17, Nyiregyházi made a sensational New York début, and for three seasons he attracted much publicity across America, becoming a bona fide (albeit controversial) celebrity. His career was poorly handled, however, and in 1924 he sued his manager; the case was settled out of court (not to his advantage), but he was effectively blacklisted in the music business.
Thrown onto his own resources, he proved to be hopelessly incompetent at coping with day-to-day life. He had been sheltered and infantilizd by his parents, to the point that when he arrived in America he still could not tie his own shoelaces or cut his own food (to the delight of the tabloids). Soon he was destitute, sometimes going without food and sleeping on the subway or a park bench. He was reduced to playing in hotel orchestras, at Sing Sing prison, in private recitals for gangsters, in concerts organized by the Hungarian community—anywhere he could earn a little money.



Nyiregyházi as "Mr.X"




In 1928, with six dollars in his pocket, he relocated to Los Angeles, where he did musical odd jobs for film studios. He performed in some early talkies (Fashions in Love, The Lost Zeppelin, Lummox) and performed or served as a "hand double" in piano sequences in such later films as A Song to Remember, Song of Love, Soul of a Monster, and The Beast with Five Fingers. Through the thirties and forties he remained in poverty, became a drunkard, and spent most of his time composing, in an idiosyncratic late-Romantic style. (He began composing at 3, and had written more than a thousand works by the time he died.) He still performed, sometimes with local W.P.A. orchestras, sometimes in private recitals.
Despite his low profile and poverty, his talent and personality won him many fans. His circle of friends and admirers reads like a who's who of early-twentieth-century America: Rudolph Valentino and Harry Houdini, Gloria Swanson and Bela Lugosi, Jack Dempsey and Theodore Dreiser, as well as many leading musicians of the day. But he was a tormented and self-destructive person, and despite the efforts of influential persons, and occasional trips to New York and Europe, he could not revive his career. With time, he became increasingly neurotic about performing in public. In 1946, he agreed to give a recital in L.A. only if permitted to appear disguised by a silk hood; he was advertised as "Mr. X—Masked Pianist."
After the Second World War, his career as a pianist effectively ended. He lived in cheap lodgings, drinking and composing; he did not own a piano, did not practice, seemed unconcerned about the loss of his concert career. He travelled often—to New York, to Texas and Mexico, to Europe—sometimes in search of companionship, sometimes to relive better times, sometimes simply because he was restless. He was voracious sexually; his life was replete with long-term mistresses and one-night-stands (many with married women), as well as prostitutes, masseuses, and occasional male partners. He married ten times, rarely successfully. One wife abused him, and their separation was fodder for the tabloids ("SLAVE MAN BATTLES SUIT"). He divorced another wife shortly after their wedding because she yawned during a concert; another sought psychotherapy in Vienna with Freud; yet another was deported for prostitution, and, out of spite, stole the book of essays he had been compiling under the (characteristically grandiose) title The Truth at Last.

| | |
| --- | --- |
| | |
| | |
In 1972, a group of historical-piano aficionados rediscovered Nyiregyházi, and he gave a few public concerts. Word of his rediscovery spread, and in 1974 and 1978 he made some recordings for the International Piano Archives. When they were released, his unique and powerful piano style, and colourful life-story, inspired a barrage of public and media interest: interviews, newspaper and magazine articles, TV documentaries. There were sensational headlines ("HOBO PIANIST REDISCOVERED IN TENDERLOIN"), and much controversy among musicians and critics, but Nyiregyházi, uncompromising when it came to his artistic ideals, was unwilling to milk the publicity for the sake of money or status or fame. He refused lucrative offers to play in in Carnegie Hall, and refused to abandon his down-and-out lifestyle.
By 1980, the fad was over—except in Japan, where he found a public that respected his artistic ideals. In 1980 and 1982, he gave concerts in Japan, where he was lionized, but he returned to L.A., to the obscurity he seemed to prefer. He died there, of cancer, in 1987.
His life reads like a soap opera, but Nyiregyházi was no charlatan. Even after he dropped out of the public eye, his playing could astonish the most informed ears. The composer Arnold Schoenberg, after hearing him play privately in 1935, wrote (in a letter to Otto Klemperer) that Nyiregyházi was "something utterly extraordinary," a pianist of "incredible originality and conviction" with an "astonishing" and "unparalleled" technique and "power of expression I have never heard before." "The sound he gets out of the piano is unprecedented," Schoenberg wrote. "I have never heard such a pianist before."




Photo (C) Yoshimasa Hatano




Nyiregyházi made some Ampico piano rolls in the 1920s, but no recordings when he was in his prime. Still, the recordings he made in the 1970s, despite his deteriorated technique, reveal a pianist with a rich singing tone, an unparalleled dynamic range, a contrapuntal and "orchestral" approach to texture, a very flexible sense of rhythm, and (most controversially) a free, creative, improvisatory approach to interpretation. He was a genuine Romantic adrift in the modern age; even when he was a child, critics referred to his style as "old-fashioned." In fact, his playing was said to resemble that of Liszt, according to former Liszt pupils who heard him play. He was a ferociously individual artist—his heroes were Liszt and Wilde—and his deeply personal musical interpretations scandalized many. Yet, he may be considered a sort of "missing link" to a bygone species of Romanticism that existed before the recording era. His eccentricities and the faddish nature of his rediscovery notwithstanding, he was musician of considerable historical importance.

*

Lost Genius is the product of ten years' research, and the story it tells has never fully been told before, not even during the Nyiregyházi "renaissance" of the 1970s. The book is based on archival material gathered from institutions and individuals all over the world—most important, Nyiregyházi's own posthumous papers and those of his tenth and last wife, who conducted hundreds of hours' worth of interviews with him covering every aspect of his life. The author also interviewed and corresponded with almost all of the principal figures personally connected with Nyiregyházi in the 1970s and 1980s, in the U.S., Japan, and elsewhere, and with surviving family members in California. The research received support from institutions directly associated with Nyiregyházi, including his estate (the International Ervin Nyiregyházi Foundation, in The Netherlands), the Takasaki Art Center College (in Japan), the International Piano Archives at Maryland, and the Ford Foundation (in New York).
First published by McClelland & Stewart (Toronto) in February 2007, Lost Genius was is due to be published in the U.S. by Carroll & Graf (New York) in the fall of 2007.


---
The following message is from Kevin Bazzana, posted to the Yahoo discussion group on Feb 2007. He forwarded this to me.

This note is directed to anyone interested in the Hungarian-American pianist and composer Ervin Nyiregyházi (1903-1987). I am writing to announce the forthcoming appearance of a book and a CD release devoted to Nyiregyházi.
The book is a biography by me, "Lost Genius: The Story of a Forgotten Musical Maverick" (383 pages, ISBN 978-0-7710-1100-9, $36.99 in Canada). The publisher is McClelland & Stewart, in Toronto (www.mcclelland.com), and the official release date is February 27, though the book has already been printed and is being offered for pre-order at Amazon.ca (and .com) and the like. Publishers/distributors outside Canada have not yet been finalized, but until that time, I believe, anyone in the U.S. or elsewhere who wants the book can order it directly it from the publisher or online. "Lost Genius" is the first biography of Nyiregyházi, and is the product of 10 years of research.
The CD release is a two-disc set on the Music & Arts label (CD-1202), tentatively titled "Ervin Nyiregyházi in Performance: Live Recordings, 1972-1982". It will feature performances from Nyiregyházi's public and private recitals in San Francisco and Novato, California (1972-73, 1978), and from his public recitals in Japan (1980, 1982); a bonus track offers the five-minute recording of a piano-orchestra work by an American composer that Nyiregyházi made in 1936 for the Federal Music Project (the only surviving studio recording of him playing in his prime).
The other repertoire will include about an hours worth of Liszt (including the legendary 1973 performances of the 2 "Legendes"); Scriabin's Sonata No. 4; a Chopin group; two Schubert songs; pieces by Debussy, Brahms, Tchaikovsky, and Grieg; and Nyiregyházi's solo version of the whole slow movement of Rachmaninov's C-minor concerto. This 2-CD set, produced with the cooperation of the International Ervin Nyiregyházi Foundation (which represents his estate), will be available by September 1 at the latest; see the Music & Arts website (www.musicandarts.com) in the coming months for more details.
Anyone interested in knowing more about either of these projects, or about Nyiregyházi generally, is welcome to contact me directly. Many thanks for your attention.

KEVIN BAZZANA
Brentwood Bay, B.C., Canada
kevinbazzana( at )shaw.ca

_______

Go back to Nyiregyházi Top